Cyclone Hudhud pounded the coastal districts of Andhra Pradesh and Odisha with heavy rain and winds of almost 200 kmph on Sunday killing four people and left a trail of destruction with Vishakapatnam where the very severe storm made landfall the worst hit.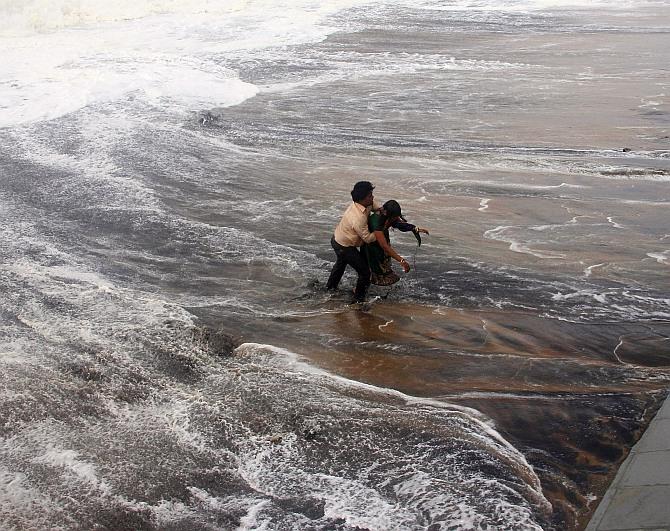 Image: A man carries his wife to a safer ground after a wave hits a beach in Gopalpur in Ganjam district in Odisha. Photograph: Reuters
Nearly three-and-a-half lakh people -- about 250,000 in Andhra and nearly a lakh in Odisha -- were evacuated and tens of thousands of people were still being taken to safe places and housed in special shelters, officials said.
High velocity winds battered Visakhapatnam, which is home to a naval base, Srikakulam and Vizianagaram districts throwing normal life out of gear after the cyclone made landfall shortly before noon downing power and communications lines and closing roads and railways.
Trees were uprooted and roofs of thatched huts and sheds and hoardings blown away.
Transport services came to a halt in the region. Dozens of trains were either cancelled or diverted and flights in the region were also disrupted.
Streets largely wore a deserted look as panic-stricken residents remained indoors.
According to Andhra Pradesh's Revenue (Disaster Management) Department, the cyclone left railway lines in Visakhapatnam badly damaged, besides causing "damage" to the airport there.
A total of 2,48,004 people were "affected" by Hudhud, which also damaged 70 houses and left 34 animals dead, it said.
Three people were killed in rain-related incidents in AP while one person lost his life in Odisha.
"The impact is tremendous," Union Minister Ashok Gajapati Raju said.
"Three deaths have been reported due to impact of Hudhud. Two died after trees fell on them and one in collapse of compound-wall in Visakhapatnam and Srikakulam districts, respectively," AP Chief Secretary I V R Krishna Rao said.
A fisherman was caught in the sea current amid a tidal surge while he was trying to save his fishing boat anchored in the coast of Puri, Special Relief Commissioner P K Mohapatra said.
On Saturday, a nine-year-old girl drowned when a boat engaged in evacuation of the people in Satbhaya area of Kendrapara district capsized in the Baunsagadi rivulet.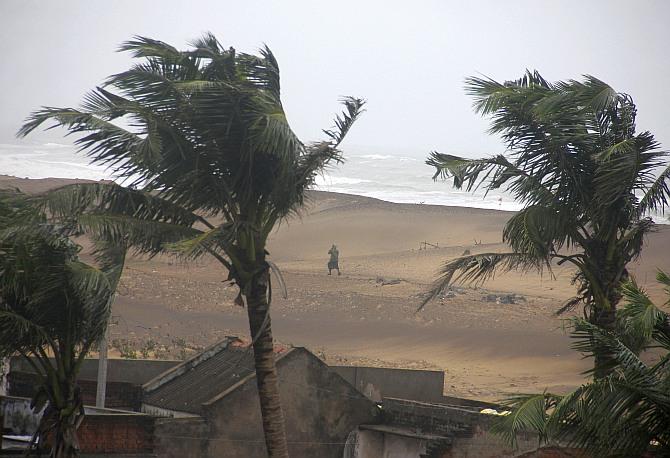 Image: A man walks as strong winds blow along a beach in Gopalpur in Ganjam district of Odisha. Photograph: Reuters
In Delhi, IMD Director Laxman Singh Rathore said that as the cyclone was crossing AP coastline the wind speed was 170-180 kmph and gusting up to 195 kmph.
Prime Minister Narendra Modi spoke to Andhra Pradesh Chief Minister Chandrababu Naidu and discussed relief and rescue measures and promised all possible assistance.
Cyclone Hudhud lost its intensity by evening as it moved further 60 km northwest of Visakhapatnam, the IMD said.
Hudhud, which was so far a very severe cyclonic storm has now converted into a severe cyclone and its speed is now limited to 100-110 kmph, said M Mahapatra, Scientist at the Cyclone Warning Division of IMD.

Odisha Chief Minister Naveen Patnaik said the cyclone had its impact in different districts like Ganjam, Gajapati, Koraput, Puri, Kalahandi and Kendrapara.
"Due to the hilly topography, the cyclone's intensity will reduce in next six hours and further reduce in next 12 hours. However, the area (Vizag) will experience heavy to very heavy rainfall for the next three days," Rathore said earlier in the day.
As the storm progresses, it will bring heavy rainfall to very heavy rainfall in Chhatisgarh, Bihar, East Madhya Pradesh and East UP and Gangetic belt of West Bengal, he said.
"The PMO is monitoring the situation arising out of the cyclone at regular intervals," he added.

Aircraft services will be able to operate from Monday morning as the weather is expected to improve, officials said.
Union Cabinet Secretary Ajit Kumar Seth said the Prime Minister was concerned not only about AP and Odisha but also wanted other states, which could face heavy rains minus the cyclone, to be alerted.
Seth advised residents of cyclone-hit Vizag to exercise caution till the second phase of the high wind is over even as he lauded the efforts of the central agencies and state government in meeting the challenge.
Twenty-four NDRF (National Disaster Response Force) teams (each comprising 45-50 members) are on duty on the Andhra coast, including three that are on the way.
Six helicopters have been positioned in the Naval base here while two Army columns are also stationed in Vishakapatnam and at Srikakulam with power boats and other equipment for rescue and relief operations. In addition, 56 boats and launches have been deployed.