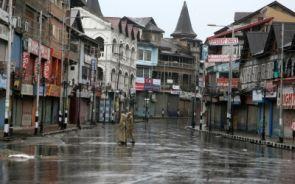 Curfew remained in force for the second day today in major towns of South Kashmir after five persons were killed in firing by security forces in Shopian.
Curfew was reimposed on Thursday in Shopian and later in the evening in Kulgam and Kakpora town in Pulwama as a preventive measure to maintain law and order following widespread clashes on Wednesday, in which a youth was killed, taking the death toll in the area to five since Saturday.
Police and CRPF personnel have been deployed in these areas as well as other major towns in Kashmir valley as a precautionary measure, the officials said.
Separatists have asked the people to stage peaceful demonstrations after Friday prayers to protest against the killings.
The prohibitory orders were invoked after the youth was killed in the CRPF firing on protestors outside Gagran camp of the force, while 13 others suffered pellet injuries.
The protestors were demanding removal of the camp and arrest of the personnel involved in firing incident last week that left four persons dead including three civilians.
The state government on Thursday ordered a magisterial probe into the death of five persons in Shopian and directed the district magistrate to submit the report within one month.
The government also directed DGP Ashok Prasad to replace the CRPF personnel at Gagran camp with Jammu and Kashmir Armed Police.