The historic piece of British architecture, the erstwhile Victoria Terminus, now called the Chhatrapati Shivaji Terminus, has been formally inscribed as a world heritage site by the World Heritage Committee of UNESCO.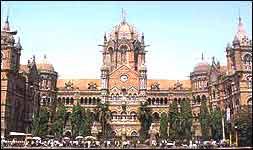 In its 28th ongoing meeting at Suzhou, China, the committee has formally accorded the status on CST as a World Heritage Site, Central Railway sources said in Mumbai on Friday.
This is the second such site in Mumbai (besides Elephanta Caves) and 25th in Asia being put under the World Heritage list. The Darjeeling Himalayan Railway had also been accorded the World Heritage status in 1999.
A formal application for declaring the site as a world heritage site was processed in early 2003 after a preliminary visit assessing the scope in September 2002 by a team of UNESCO officials.
CST is the first administrative and functional building to be accorded such an honour.
Designed by F W Stevens, a consulting architect, it took 10 years to complete the building (1887-88) at the then princely sum of Rs 16.14 lakh. It was named after the Empress Victoria in 1887 and renamed as Chhatrapati Shivaji Terminus in 1996.
The building exhibits an important interchange of influences from Victorian Italianate Gothic Revival architecture and from Indian traditional buildings.
The station stands as an example of 19th century railway architectural features as well as its advanced structural and technical solutions.