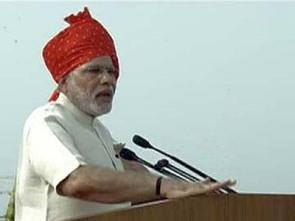 Prime Minister Narendra Modi on Friday addressed the nation on the 68th Independence Day from the ramparts of the historic Red Fort for the first time.
Here are highlights of his speech:
* Politicians haven't made this nation, parties haven't made this nation, governments haven't made this nation. Instead it is the farmers, scientists and common people who have built this nation.
* 'We don't want to go ahead with the strength of numbers; we want to go ahead with unanimity. This could be seen in the just concluded Parliament session. We have taken the Opposition in agreement at every step.'
* 'I am an outsider in New Delhi. I have been away from the elite in this city. In the 2 months I have been here I now have an insider view. I was astonished. I saw many governments functioning within a government. One department fighting the other. So we are trying to break this wall; we want to have one mission and target: Take the nation forward.'
* Can someone tell me, whatever we are doing, have we asked ourselves if our work has helped the poor or come to benefit the nation in any way? We should come out of the 'Why should I care' attitude and dedicate ourselves to the nation's progress
* It is easy to give expert opinions. I want to ask parents, when daughters turn 11 or 14, they keep a tab on their movements. Have these parents ever asked their sons where they have been, who they have been meeting? Rapists are somebody's sons as well! Parents must take the responsibility to ensure that their sons don't go the wrong direction
* Message to Naxals: Let's abhor violence and walk the path of peace
* We have had enough of divisiveness and communal wounds inflicted on Mother India. Peace and brotherhood will give strength to take the country forwards. I am sure it can be done.
* India's sex ratio is 1000 boys for 940 girls. Who creates this disparity? Don't fill your coffers at the altar of the mother's womb. People feel that sons will take care of them when they are old. But I have seen aged parents in old-age homes or single daughter taking care of old parents.
* Indian athletes made us proud in the Commonwealth Games. 29 of the medals were won by girls. Let's honour them.
* Why are farmers committing suicide? Who will protect the poor? We are rolling out a PM Jan Dhan Yojana will connect the poor with bank accounts. They will be given a debit card. Every account holder will be provided with Rs 1 lakh insurance.
* We are nation of the young. Have we ever thought of harnessing the power of the youth? We need skilled workers. The youth needs to imparted with skills that earn them fame around the world. We want to develop job creators.
* The world has changed. India is not alone, cannot operate alone. Economic powers have changed. We have to think differently. The government has taken some measures. We have to improve our manufacturing sector. We invite world nations and the Diaspora, 'Come Make in India'.
* From automobile to pharmaceutical to satellite to satellite to plastic, I am telling the world, 'Come, Make in India'.
* The mantra of our country's youth should be to at least make 1 product that we import. Don't compromise in manufacturing; Stress on Zero defect, Zero effect (impact of environment).
* India used to be known as land of snake charmers. Today, our IT professionals have left the world spellbound. Technology must be adopted increasingly.
* We have to head towards a digital India. We today import a huge proportion of electronic items. If we dream of a digital India, we have to aim for good governance via e-governance.
* Do we want to live in unhygienic conditions? Can't our nation be clean? If billions of Indians pledge to keep the surroundings clean, can't this nation be cleaner? What do we give Mahatma Gandhi on his October 2? People's participation is necessary to ensure that our schools, hospitals, roads and infrastructure are clean.
* Can't we arrange public toilets? Why do our womenfolk need to wait till dark to use the toilets?'
* You may wonder what kind of PM talks of toilets and cleanliness from the ramparts of the Red Fort. But I have come from a poor background; I know how the situation is on the ground.'
* So I want to, starting from Oct 2, set a 4 year target to bring about a change. MPs must use their MPLAD funds to set up toilets in schools; so should corporates.
* Many programmes are running in the names of PMs and other leaders. Today, I announce a Sansad Adarsh Gram Yojana. Let each MP adopt a village and take care of its sanitation, education and other needs. Make model villages.'
* I will place the blueprint for this programme before MPs and state government on October 11 of Jai Prakash Narayan's birth anniversary.
* The need to the hour is to eliminate poverty. Can't we overcome poverty? Come, let a billion countrymen promise to eradicate poverty.
* To SAARC neighbours: Let's give up fighting each other and instead work to ensure that we are a force to reckon with.
* I can assure you. If you work 12 hours, I will work 13. Why? Because I am not a Pradhan Mantri, but a Pradhan Sevak.
* Want to salute the nation's security forces for its valour and sacrifices.