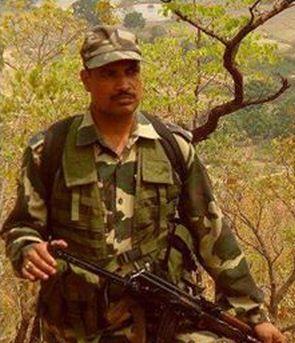 Central Reserve Police Force Deputy Commandant and five-time gallantry medal winner P R Mishra has become the only person from paramilitary forces to have been decorated with a Shaurya Chakra this Independence day for displaying exemplary courage in anti-Naxal operations.
Mishra, a commando trained officer of the elite CoBRA unit of the paramilitary, has been shot five times by Naxalites and has a record of continuously serving in Maoist-affected areas of Jharkhand for the past nine years.
Owing to his daredevil conduct and tough task master like heroics, the officer is popularly called as 'topgun' in the force and has recently been taken on special deputation by the Jharkhand government to serve in the Naxal hotbeds of the state and boost the morale of local policemen fighting Maoists.
Mishra is the lone recipient of the coveted military medal among 10 army, air force and navy personnel this time. The Shaurya Chakra is the third highest peacetime gallantry medal.
Mishra has a track record of getting these medals for his courageous exploits in difficult areas beginning 2009.
He has been awarded the police medal for gallantry in 2009, twice in 2011, 2013 and the top medal – President's police medal for gallantry in 2012 apart from five commendation discs for operations by CRPF director general and four by the Jharkhand police chief.
Mishra, who made news last year after being shot in a Naxal operation in Jharkhand last year and killing a dreaded Maoist cadre, recuperated in the hospital for only two months and got back to his favourite job -- counter-insurgency and jungle warfare operations.
"He has shown a constant streak of conducting daring and risky operations since he joined the force in 1997. Despite he being on the hit list of the Naxals, he refuses to take a back seat. He was the first one to join the elite CoBRA unit when it was created in 2009," a top officer said.
With this top military medal, Mishra has become the lone recipient of these many gallantry medals in the 8-lakh personnel strong paramilitary forces in the country.
The latest medals this Independence Day, a police medal for gallantry and the Shaurya Chakra, have been awarded to the daring officer for killing top Naxal commander Jeetendra alias Jeetu in September last year.
Mishra is currently posted as the Additional Superintendent of Police (operations) in the Naxal-hit Chatra district of Jharkhand.
The CRPF has decided to issue a special commendation to the officer.
Image: P R Mishra