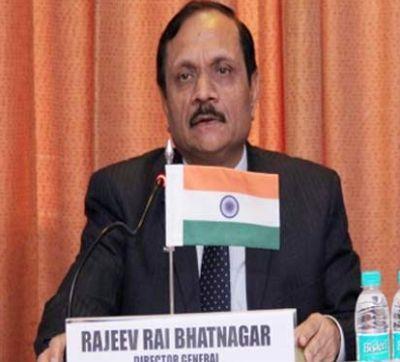 Two days after 25 Central Reserve Police Force personnel were killed in a Naxal attack, the government today appointed senior Indian Police Service officer Rajiv Rai Bhatnagar as the head of the paramilitary force, filling the post which was lying vacant for almost two months.
Bhatnagar, a 1983-batch IPS officer of Uttar Pradesh cadre, is currently serving as the director general of the Narcotics Control Bureau.
He will head the 3-lakh strong paramilitary force for 32 months as he will retire in December 2019.
The post was lying vacant since K Durga Prasad retired on February 28 and the Appointments Committee of the Cabinet headed by Prime Minister Narendra Modi issued the orders two days after CRPF lost 25 personnel in a deadly Naxal attack in Sukma in Chhattisgarh.
Bhatnagar is expected to take charge of the CRPF later this week as he is on an official assignment in Indonesia in the capacity of NCB DG.
Fine-tuning anti-Naxal operations and getting better results out of them will be the foremost challenge for Bhatnagar apart from enhancing the operational efficacy of the paramilitary in Jammu and Kashmir, where it is deployed in law and order and counter-insurgency tasks.
In an another decision, the ACC appointed Bhatnagar's batch-mate R K Pachnanda as the DG of the Indo-Tibetan Border Police, a paramilitary force primarily tasked to guard the Sino-India border.
Pachnanda is a 1983-batch IPS officer of the West Bengal cadre and is present serving as the DG of the National Disaster Response Force.
He, however, will take over the 80,000 personnel strong ITBP on July 1 after current DG Krishna Chaudhary retires on June 30.
Pachnanda will retire in October 2018.
Centre to buy nearly 250 bullet-proof, mine-protected vehicles for anti-Naxal ops
The Centre on Wednesday night said it was inthe process of procuring nearly 250 bullet and mine protectedvehicles for use by the security forces engaged in anti-Naxaloperations in Chhattisgarh.
It also said 45,000 central paramilitary personnel and20,000 state policemen were deployed in Bastar region, whichsaw maximum Naxal violence in Chhattisgarh.
Reacting to media reports, the home ministry said in astatement that it is factually not correct to observe thatlack of financial resources is a reason for casualty ofvaluable lives of police and CRPF personnel in the battleagainst Left-wing extremism.
The funds released for Security Related ExpenditureScheme have increased from Rs 575 crore in 2011-12, 2012-2013, 2013-2014 to Rs 675 crore in 2014-15, 2015-2016, 2016-2017.
The above increase is in spite of the fact that statesnow get a greater share (42 per cent) of the Centre's taxresources. Earlier this used to be only 32 per cent.
The statement said it was incorrect to say thatChhattisgarh Police is in shambles. In addition to 45,000central forces personnel, over 20,000 state police personnelare posted in Bastar region.
As many as 58 mine-protected vehicles are available inChhattisgarh to the paramilitary forces and 30 are underprocess for procurement through the Ordnance Factories Board.42 bullet-proof vehicles are also available and 210 bullet-protected vehicles are under process for procurement, it said.
Referring to the recruitment process of securitypersonnel, the home ministry said it was an ongoing and acontinuous one.
For a force of 70,000, about 3,000 policemen retire everyyear and there is always a pipeline of 6,000 people underrecruitment, it said.
Chhattisgarh Police force is well equipped and a Bastarpackage for police was introduced in 2015. There is completecoordination between the Centre and state forces. In fact 2016has been the most successful year in anti-LWE operation, itsaid.
As compared to an average of 30 Naxals killed every year,135 Maoists were neutralised in 2016 which is three times thenumber of police personnel killed.
Even this year, 32 Naxals have been killed so far whichis more than the average annual killings of Naxals before2015.
It is wrong to say that 72 CRPF personnel have sacrificedtheir lives in 2017. As a matter of fact 38 CRPF personnelhave been killed in Chhattisgarh in 2017. These figuresclearly indicate that anti-Naxal operations are achievingsuccess, the statement said.
The central government's policy has been very helpful andhas substantially brought down the violence figures in thestate. There has been 7 per cent decline in overall violenceincidents since 2013. The LWE cadres are in fact in retreatandresorting to desperate attacks.
A Bastaria Battalion has been sanctioned recently with astrength of around 750 to be recruited from the local tribals.Similarly 10 Special India Reserve Battalions and 56India Reserve Battalions are being raised in the LWE areas.
On the development front various initiatives have beentaken recently such as sanction of a 5,412 km road project ata cost of Rs 11,725 crore, inclusion of all 35 worst affectedLWE districts in the skill development programme, providingNavodaya and Kendriya Vidyalayas, banks, ATMs and post officesin these districts.
On the health front, the statement said, the flagshipNational Rural Health Mission programme is followed up by the Ministry of Health andFamily Welfare on a constant basis and a super specialityhospital has been approved recently at Jagdalpur by way ofupgrading of JadgalpurMedicalCollege.
The next of kin of the soldiers killed currently getaround Rs 84 lakh as assistance.
There were no directions by the home ministry regardingnot showing grieving widows on TV channels. It was asuggestion verbally made keeping in mind the sensitivities ofthe bereaved families and the fundamental decency of notintruding to the privacy of the grieving families, it said.