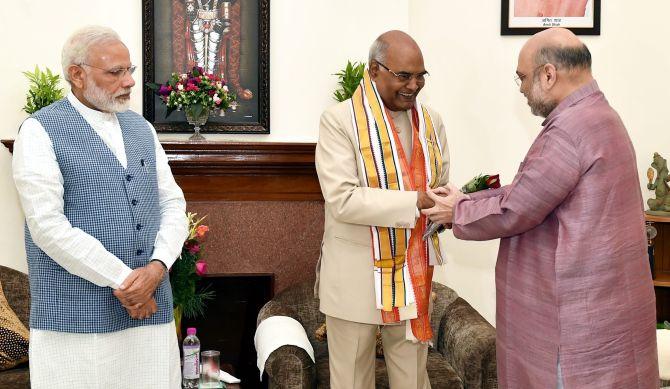 IMAGE: Prime Minister Narendra Modi with BJP president Amit Shah congratulates Ram Nath Kovind on being elected as the 14th President of India, in New Delhi on Thursday. Photograph: Manvender Vashist/PTI Photo
President-elect Ram Nath Kovind's triumph was a foregone conclusion given the National Democratic Allaince's numerical superiority over the Opposition, but his bid got a push with lawmakers from rival parties cross-voting for him in several states including poll-bound Gujarat and Mamata Banerjee's West Bengal.
Victory margin lowest since 1974
Kovind may have won the presidential election comfortably, but his vote share is the lowest since 1974, figures reveal.
Kovind received 2930 votes with a value of 7,02,044, while his rival Meira Kumar, the joint opposition candidate, secured got 1844 votes with a value of 3,67,314.
This comes to a vote share of 65.65 per cent for the President-elect.
However, the victory margin is the lowest since the 1974 presidential poll.
According to Election Commission data, Kovind's immediate predecessor Pranab Mukherjee (2012) secured 69.31 per cent
votes while Pratibha Patil (2007) got 65.82 per cent of the total votes, marginally higher than the share secured by Kovid.
K R Narayanan (1997) and A P J Abdul Kalam (2002) bagged 94.97 per cent and 89.57 per cent respectively, the highest victory percentages since 1974.
Only Neelam Sanjeeva Reddy, in 1977, was elected unopposed to the top constitutional post.
Gyani Zail Singh (1982) got 72.73 per cent votes, while R Venkatraman (1987) bagged 72.28 per cent. Shankar Dayal Sharma (1992) got 65.87 per cent.
Besides Narayanan, only two presidents -- Rajendra Prasad (98.99 per cent) in 1957, and Sarvapalli Radhakrishnan (98.24 per cent) in 1962 -- secured over 90 per cent of the votes.
In the first presidential election, Prasad bagged 83.81 votes.
The lowest margin of victory for any presidential poll was during the 1969 election when then president V V Girri secured just 48 per cent of the total votes.
The low percentage is often attributed to a so called 'syndicate' within the Congress.
Fifteen candidates were the in the fray in this poll, the highest in any presidential election. Girri's predecessor Fakhruddin Ali Ahmed bagged 56.23 per cent votes in 1967.
Bharatiya Janata Party general secretary Bhupender Yadav, Kovind's key election manager, claimed close to 116 lawmakers from rival parties, including the Congress, appeared to have voted for the NDA candidate.
The 71-year-old Kovind defeated joint opposition candidate Meira Kumar, a former Lok Sabha speaker, after garnering 65.65 per cent of the votes in the electoral college.
The states from where Kovind got votes from the rival camp included West Bengal, where the Bharatiya Janata Party is locked in a bitter, and often bloody, fight with the ruling Trinamool Congress.
Kovind clinched the votes of 11 MLAs in the state, five more than NDA's tally of six.
He also managed to secure votes of seven lawmakers in the Left-ruled Tripura, where BJP or its NDA allies do not have any MLA. These included six TMC MLAs who are likely to join the BJP.
The Congress has much to worry about Gujarat where Assembly elections are due later this year, with at least eight of its MLAs appeared to have voted for the NDA's candidate.
The party has 57 MLAs in the state but Meira Kumar got only 49 votes.
However, Chief Minister Vijay Rupani claimed 11 MLAs from the opposition party voted in Kovind's favour in addition to the BJP's 121.
In the 182-member House, the BJP has 121 MLAs, Congress 57, Nationalist Congress Party two, Janata Dal-United and the Gujarat Parivartan Party (GPP) one each.
The lone JD-U MLA, Chotu Vasava, had boycotted the July 17 vote.
"If statements of the NCP and GPP MLA Nalin Kotadia are true, then either 11 MLAs cross-voted for the BJP candidate or eight of our members have cross-voted," a senior Congress leader said.
He was referring to the statement of the NCP state unit president Jayant Patel who today said that none of the party MLAs voted for Kovind. Kotadia, who had turned against the BJP government over the Patel quota issue, also said he had voted in favour of Kumar.
"The Congress has 57 MLAs in Gujarat. However, our candidate (Kumar) got 49 votes, which indicates that at least eight MLAs have cross voted," a Congress insider said.
Meanwhile, Rupani said, "We have 121 MLAs but our candidate (Kovind) received 132 votes. Eleven MLAs have voted in our favour from the opposition party. This speaks about the state of the affairs in the Congress party."
He said the BJP did not make any efforts to engineer cross voting. "Votes came to us on their own," he added.
Meanwhile, the Congress' Gujarat in-charge Ashok Gehlot went into a huddle with senior leaders here to identify the MLAs who voted against Kumar.
Cross-voting by Congress MLAs, poll watchers said, reflected the disunity in the party which may imperil the chances of senior Congress leader and party president Sonia Gandhi's political advisor Ahmed Patel who is seeking another Rajya Sabha term from Gujarat election for which is scheduled for August 8.
Clarifying that NCP MLAs had voted for Kumar, Patel said," I just had a talk with a senior Congress leader in Delhi and conveyed to him that the NCP is not involved in cross-voting. As decided ahead of the polls, both our votes went to the UPA candidate. I think the Congress needs to introspect about what went wrong".
The cross-voting came in the backdrop of the tussle between Leader of Opposition Shankarsinh Vaghela and state Congress president Bharatsinh Solanki over who would lead the party in the Assembly elections.
In Maharashtra, the NDA nominee got 20 votes more than the alliance's strength of 188 in the state assembly.
"Going by the opposition's strength in the Maharashtra assembly, Meira Kumar should have got 90 votes, but secured only 77," a jubilant state BJP chief spokesperson Madhav Bhandari said.
"The opposition owes an explanation to the people for the loss of these 13 votes," Bhandari said.
"Going by the BJP-led alliance's strength, Kovind should have got at least 185 votes - 122 of BJP and 63 of Shiv Sena -- plus votes of other alliance partners, but he got 208 votes," Bhandari said.
On the other hand, Kumar should have pocketed at least 90 votes -- 83 of Congress-NCP combine, three of PWP (Peasants and Workers Party of India), one of the Communist Party of India-Marxist, two of Majlis-e-Ittehadul Muslimeen and one of the Samajwadi Party, Bhandari said.
But she got only 77 votes, he said.
Of the 288 MLAs in the state, 287 had voted in the July 17 poll.
Chattisgarh, Madhya Pradesh, Haryana, Goa, Uttar Pradesh and Delhi are among other states that witnessed cross-voting in Kovind's favour.
At least three of Goa's 16 Congress MLAs were also suspected to have voted for Kovind.
"Yes, there was cross-voting. We have called a special meeting of the Congress Legislature Party tomorrow to discuss the issue. We want to find out who have cross voted," Leader of Opposition Chandrakant Kavlekar said.
In the 40-member Goa Assembly, whose current strength has been reduced to 38 due to resignation of two MLAs, the BJP has 12 members, Congress 16, Goa Forward Party and Maharashtrawadi Gomantak Party three each, Independents 3, and NCP 1.
Presuming that all 12 MLAs of the BJP, besides three each of its allies GFP, MGP and three independents voted for Kovind, his tally would have stood at 21. However, he clinched 25 votes.
Two Aam Aadmi Party MLAs, out of the 63 who exercised their franchise in the presidential poll, indulged in cross-voting, analysis of data shared by the returning officer suggests.
The figure is much less than claims made by the Delhi unit of the BJP on the day of polling, and on expected lines considering the number of rebel MLAs in the AAP.
After casting his vote, sacked Delhi Minister Kapil Mishra had said: "My vote went to one who is all set to become the next president."
The data also shows that although a total of 67 lawmakers had cast their vote, six were declared invalid. Two AAP MLAs did not vote.
The 70-member Delhi assembly currently has 69 MLAs, of which, 65 belong to the ruling AAP and four to the BJP.
Among the votes deemed valid, 55 went in favour of Meira Kumar, whom the AAP supported, while six votes went in favour of Kovind.
One seat is lying vacant since March when AAP legislator Ved Prakash had quit membership to join the BJP.
Reacting to the instances of cross-voting, Bhupender Yadav took a dig at Meira Kumar for her appeal to the electoral college for a 'conscience vote'.
"Many lawmakers of the Congress followed their conscience and voted for Kovind," he said, taking a swipe at Kumar.
He claimed out of the 116 opposition lawmakers who appeared to have voted for the NDA candidate, 30-35 were MPs.
There is secret voting in presidential elections and it is almost impossible to exactly identify which lawmaker cross-voted.