Police on Thursday night stormed a youth convention of Pakistan Tehreek-e-Insaf in Islamabad and arrested scores of party workers, prompting party chief Imran Khan to announce nationwide protests on Friday, ahead of his rally next week seeking Prime Minister Nawaz Sharif ouster from power.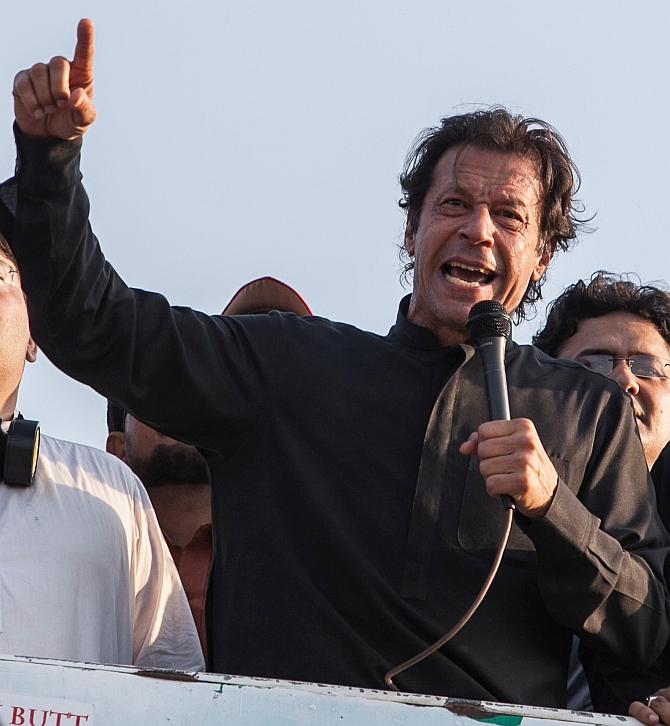 "We told the government that we would remain peaceful if they had remained peaceful. Now the movement will take a different direction," he told media persons.
The police crackdown came as authorities banned all public gatherings in Islamabad for two months. But Imran, giving a call for countrywide protests tomorrow, said the police can arrest him if they want "under Section 144".
The decison for protests on Friday was made during an emergency meeting of senior party leaders.
"Nothing can stop us now, nothing will ever stop this nation now, we'll rid Pakistan of Nawaz Sharif's dictatorship. ShameOnDictatorNawaz," it said on its official twitter handle.
The PTI chief questioned the democratic setup, saying "What kind of a democracy is in Pakistan when we are jailed for practicing our democratic right".
After Imran's press conference, PTI workers took to the streets in different cities of the country and held sit-ins at major thoroughfares, Dawn reported.
Earlier on Thursday night, police thrashed PTI workers and detained them as party's vice-chairman Shah Mehmood Qureshi was to address the youth convention in Islamabad, eyewitness said.
Qureshi said the police raid manifested dictatorial tactics of the Nawaz Sharif-led government. He said his party workers neither had weapons nor they were protesting, Express Tribune reported.
"On what basis they have arrested our party's members?" he asked, alleging that police tortured female party workers.
"Hundreds of PTI workers were arrested and female workers were tortured by the police," Qureshi was quoted as saying by Dawn. "We will discuss the situation with IG Islamabad."
The district administration in the national capital had imposed section 144, banning public gatherings and display of weapons for two months.
According to a notification more than five people cannot gather at a location. Public rallies and mass gatherings have been banned, Radio Pakistan reported.
The notification came ahead of the sit-in by Imran-led party planned for November 2. The party is protesting alleged money laundering by Sharif and his family in the wake of the Panama Papers leak and is demanding the Premier's resignation.
Meanwhile, Islamabad High Court on Thursday ordered the opposition and government to abstain from shutting down the capital in the name of protest or maintaining law and order.
The court heard petitions to outlaw a threat by Imran to impose gridlock on Islamabad on November 2.
Justice Shaukat Aziz Siddiqui said neither the opposition nor the government has any right under the law to shut down the city. He directed the government and city administration to ensure smooth running of daily business on November 2.
Siddiqui ordered the city administration not to place any containers or block roads during the protest by PTI, while also restraining the opposition from imposing a lockdown.
The judge also summoned Imran on October 31 to explain why in his speeches he had threatened to shut down the capital.
"We will not let rights of citizens be violated," he said.
He also asked the administration to inform PTI that it should restrict protests at a designated place.
The court observed that "judiciary is the third umpire" and can decide on matters related to law and Constitution.
The reference was made in the context of any possibility of intervention by army as Imran had earlier said that only Prime Minister Sharif will be responsible if democracy was derailed and a "third power" stepped in due to protests.
Addressing the media in Islamabad after the court order, Imran had said that using force against peaceful protesters is unconstitutional. He warned that the government's attempt to stop the rally will only result in spreading chaos.
"No power or deception can stop us from holding a sit-in in Islamabad," he said adding he will challenge the high court decision in the Supreme Court.
Photograph: Faisal Mahmood/Reuters