'As the firing started everything went haywire.'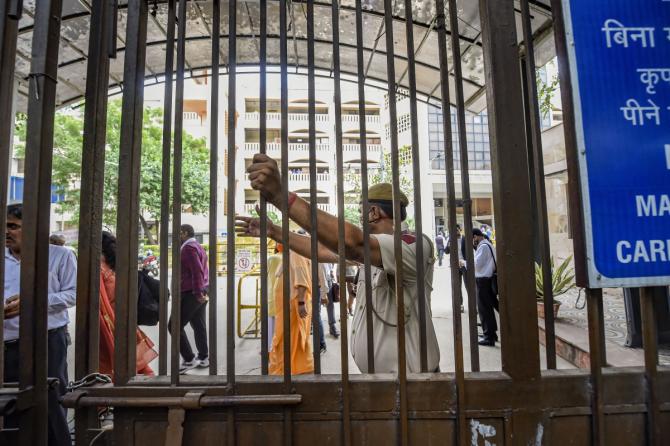 Advocate Sumit Rana, who practises at Delhi's Rohini district court and the high court, was witness to the shootout on Friday afternoon, when two gangsters dressed up as advocates, opened fire on dreaded gangster Jitender Mann Gogi and killing him. In the resultant shootout with the Delhi police, the two assailants were shot dead.
Speaking to Syed Firdaus Ashraf/Rediff.com, Rana says, "I have no idea why Jitender Gogi was told to be physically present in court."
---
Jitender Gogi's matter was listed today in the Rohini court.
Production warrants were issued for Jitender Gogi who was told to be physically present in Rohini court.
As soon as he entered the courtroom no 207, order and decorum was maintained in the room which is a prerequisite before the proceedings begin.
There were two people dressed as lawyers who were already present in the courtroom.
They at once started firing indiscriminately at Gogi, who died on the spot.
As they fired the shots, the security staff and Indo-Tibetan Police Force retaliated, killing those two shooters.
They too were killed on the spot.
The judge ducked in the melee and so did other court staffers.
Everything happened in a jiffy and it was over in no time.
In my opinion, this is totally a security lapse. This gangster should have got his trial heard through video conferencing only and should not have been allowed to come to court.
There are three dreaded gangsters in the Delhi area -- Jitendra Gogi, Parvesh Mann and Neeraj Bawaniya.
A similar incident had happened here in the Rohini court when one of the gangsters was shot in 2018 by the Neeraj Bawaniya gang. This incident happened when the undertrial was sitting inside a police van.
After this incident these three dreaded gangsters were never called physically to the court.
They were only called through video conferencing. I have no idea why this time Jitender Gogi was told to be physically present in court.
This time the production warrant was issued in his name and therefore he was produced.
When he came to the court a kafila (as we call the ITBP officers who travel with him) arrived with him.
There were at least 20 to 25 ITBP personnel in this kafila with him as he was always a dangerous criminal as per the records.
Luckily, they were there right in the courtroom and they retaliated and shot the killers instantly.
When the incident happened, I was very close to court room 207.
As the firing started, everything went haywire. Everyone was cowering for shelter, not knowing where the next bullet is going to come from and from which direction.
Some hid behind pillars or stairs or whichever place they got to hide themselves.
There was a rumour that a lady lawyer got hurt in the incident, but there has been no confirmation about this.
When I approached court room 207 after a few minutes I was fearing that there will be another firing but thankfully nothing happened.
The ITBP had cordoned off the room and they then closed the room from inside.
I could see one station house officer of the Delhi police and a deputy commissioner of police, and later on a joint CP too joined them.
I saw the dead bodies of these killers from a distance and felt that they were not above 21 years old.
There was not much security checks in the court.
Anybody wearing a white shirt and black trouser of a lawyer can enter the Rohini court premises easily without any trouble.
There are metal detectors installed for the lawyers's entrance, but unfortunately, that was not operational.
Had the metal detectors worked, the shooting inside the court would not have happened.
There are three metal detectors in the Rohini court and unfortunately none of them is operational.
There is a luggage scanning machine too which is not working for the last four years.
What I have heard now is that these shooters were carrying firearms in their bogus court files before entering the courtroom.
This is a major security lapse.
In the Delhi high court the security is very good and metal detectors function well.
Identity cards of lawyers are checked all the time and they check religiously before any lawyer wants to enter the high court.
Unfortunately, all these things were not done at the Rohini court, therefore the shooting incident occurred.