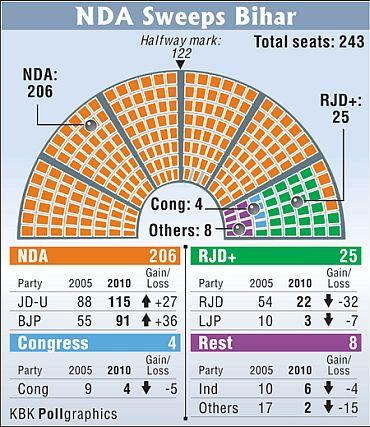 Riding a massive wave on the theme of development, Nitish Kumar on Wednesday led the Janata Dal-United-BJP alliance to a landslide four-fifth majority in the Bihar Assembly elections routing Lalu Prasad's RJD-LJP combine and a weak Congress to return to power for a second consecutive term.

The scale of victory could be gauged from the fact that from 143 seats in the 2005 elections, Kumar's campaign on the basis of his government's performance helped the ruling alliance notch a spectacular tally of 206 seats in the 243-member House.

While Nitish Kumar's JD(U) got 115 seats, its ally BJP secured 91. They had got 88 and 55 respectively in the last elections. The new government will take oath on Friday at the Gandhi Maidan.

The 59-year-old chief minister, who is said to have brought change in governance in a state that had witnessed Lalu Prasad's OBC empowerment politics, adopted a strategy of attracting Muslim votes even at the expense of earning BJP's wrath at times by keeping Narendra Modi out of campaign.

He also reached out to the disadvantaged sections among the OBC and Scheduled Caste by working on a package for Mahadalits and extremely backward castes.

This is the biggest victory in an assembly election anywhere in the country in the recent times and particularly in Bihar in 26 years when Congress got over 200 seats in 1984 riding a sympathy wave after Indira Gandhi's assassination.

The House then had strength of 324 in the undivided Bihar.

The Opposition was in tatters with RJD, which ruled Bihar continuously for over 15 years till 2005, reduced to just 22 seats from its 2005 tally of 54. Its alliance partner LJP led by Ram Vilas Paswan was down at 3 from 10 it had.

Congress, which gambled by going it alone with Rahul Gandhi as its spearhead in the campaign, failed to even retain its seats. It got only four seats.

RJD's humiliation was complete when Prasad's wife Rabri Devi, who was Leader of Opposition in the outgoing House, was defeated in both the constituencies she contested.

Likewise, its ally LJP chief Paswan's two brothers -- Pasupati Kumar Paras and Ramachandra Paswan -- were made to bite the dust.

The CPI, which had three, was down to one, while independents accounted for six. In the last elections, independents had won in 10 seats. SP, BSP and NCP, which had two, four and one respectively in the last elections, drew a blank.

Commenting on the poll outcome, 59-year-old Kumar said, "We have no magic wand, but people's trust. I will need to work harder than I did in the last five years and I will not hesitate to do it."

"The outcome of the elections also proves beyond doubt that it was a victory for development and for the people of the state. The poll verdict marks a 'nayi kahani' (new story) for Bihar, it will have its effect outside the state also," Kumar, who did not contest the election, said. He is an MLC and has one year to complete his term.

Without naming RJD chief Lalu Prasad who had criticised the exit polls predicting victory for the NDA, Kumar said: "Media should not be criticised for its projection that NDA will pull off a landslide victory in Bihar."

"People should refrain from unnecessary criticism of the media. If you live up to the people's aspirations and expectations you will definitely be rewarded," Kumar said.

"Now I feel that the people have thrust on my shoulder more responsibilities and I have to continue to make efforts with full dedication."

Among the 25 ministers who contested the polls, 20 won and five lost. Among the 20 winners, 13 belonged to the JD(U) and the remaining to BJP. There are a total of 34 ministers. One died while the others are MLCs.

Speaker Uday Narain Choudhury of JD(U) won from the Imamganj (SC) seat.

Shibhu Shoren's JMM opened its account in the Bihar assembly with a victory in Chakai constituency.