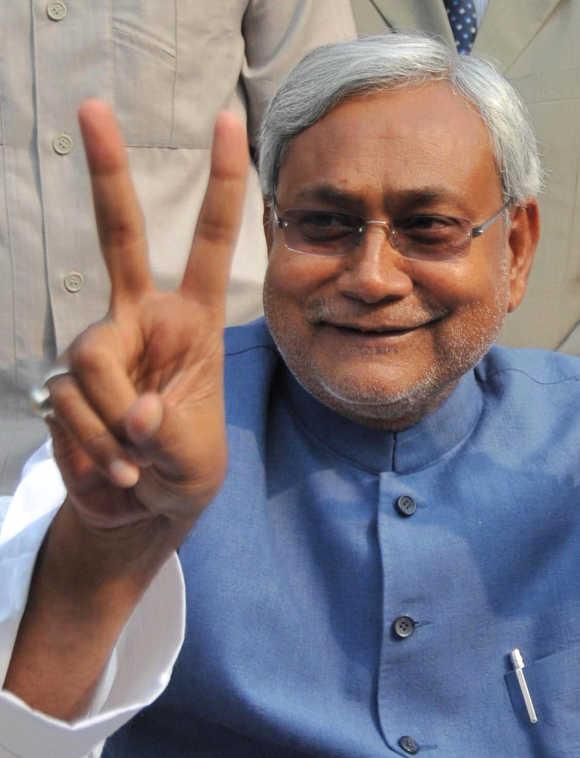 With the showdown between Jitan Ram Manjhi and his mentor-turned-foe Nitish Kumar inching towards an exciting finish, the Bharatiya Janata Party on Thursday lent its support to the chief minister even as both houses of Bihar legislature recognised Janata Dal-United as their principal opposition party.
The decision to support embattled Manjhi at the floor of the house on Friday was taken at a meeting of the BJP LP, which was held for the second consecutive day on Thursday.
"BJP will stand with Chief Minister Jitan Ram Manjhi and vote in his favour if there is a confidence vote on Friday," senior party leader Sushil Kumar Modi said.
The party has issued a whip to its MLAs to vote in support of Manjhi in the floor test, which he said was aimed at avenging the insult meted out by Nitish Kumar to a Mahadalit, the poorest among Dalits.
Acting Bihar Governor Keshrai Nath Tripathi will arrive in Patna from Kolkata late this evening, highly-placed sources in Raj Bhawan said.
JD-U National President Sharad Yadav has already reached Patna, but Rashtriya Janata Dal President Lalu Prasad would not be in Patna as he would be busy in 'tilak' function of his youngest daughter with the grandson of SP chief Mulayam Singh Yadav at Safai, his close aide and MLC Bhola Yadav said.
Earlier in the day, Speaker Uday Narayan Chaudhary accepted the plea of JD-U and granted it permission to sit in the Opposition gallery on Friday. He also granted Vijay Chaudhary the status of the Leader of Opposition in place of BJP's Nand Kishore Yadav.
The BJP reacted angrily to this and sat on dharna in front of the assembly entrance.
"Assembly secretariat has to act according to numerical strength and since JD-U had sought the status of the main Opposition, we had no reason to deny them this considering their numbers," the speaker said.
Manjhi after his expulsion from JD-U by Sharad Yadav has been declared as unattached member in the assembly.
Barely a few hours later, JD-U was recognised as principal Opposition party in the legislative council as well. Chairperson Awdesh Narayan Singh recognised Nitish Kumar as leader of Opposition in the council in place of Sushil Kumar Modi.
The day brought bad news for Manjhi as Patna High Court refused permission to four MLAs owing allegiance to him to cast their votes in floor test. It also dismissed a petition by minister Vinay Bihari to keep Speaker Chaudhary away from the trust vote.
Both Kumar and Manjhi organised dinner for their supporting MLAs tonight.
In the 243-member Bihar assembly whose effective strength at present is 233, JD-U has 110 MLAs including the Speaker, one unattached member in Manjhi, BJP 87, RJD 24, Congress 5, Communist Party of India 1, Independents 5 while 10 seats are vacant.
As both sides made last-ditch efforts to mobilise MLAs to their sides, JD-U MLA Sharfuddin dropped a bombshell alleging before media persons that RJD MP Pappu Yadav had telephoned him offering money and a minister's post if he supports Manjhi during the floor test.
"Pappu Yadav called me on my mobile and tried to lure me into supporting Manjhi by promising all sorts of things. He said I will be given a minister's post, money and whatever I wish for if I vote in favour of Manjhi during the confidence vote," Sharfuddin claimed with state party chief Basistha Narayan Singh by his side.
The MLA also played a purported recording of the phone call and said that he was staunchly with Nitish Kumar.
Pappu Yadav denied making the call and said he was prepared for any kind of inquiry. "I do not know Sharfuddin. I have nothing to do with him," he told PTI.
Asked if he was working in Manjhi's favour despite RJD's stand to support Nitish Kumar, the MP said, "I am working to save only the poor. I am not an MLA who can mobilise legislators in favour of somebody. I have merely appealed to legislators to vote after hearing their conscience."
His conduct has not gone down well with RJD and Lalu Prasad's son Tejaswi Yadav reminding him that he is the party's Lok Sabha member.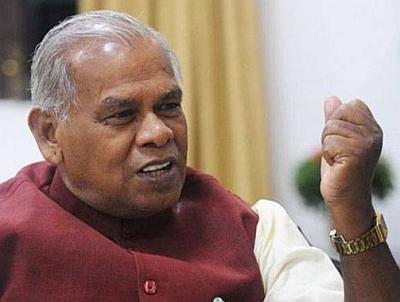 Meanwhile, Manjhi in his last public engagement before the confidence vote virtually dangled the carrot of ministerial berths to garner support from MLAs.
Manjhi, who was speaking at Garib Swabhiman Sammelan in Patna, appealed to the people to request their MLAs to support him.
"You all should request your MLAs that they should support me if I have not done anything wrong in thinking about the poor. If they are going against me for becoming ministers, tell them I too have many such vacant posts. I will also make them ministers," he said.
Later, he presided over a meeting of his cabinet, second one since Wednesday, and approved many proposals.
The Patna High Court had on Wednesday allowed him to take decisions but had directed those be implemented only after February 21.
Sharad Yadav after landing in Patna mocked Manjhi saying, "Mungeri Lal ke hasin sapne kabhi pure nahi honge (his dreams will never be fullfilled)."
JD-U Chief Whip Shrawan Kumar on receiving notification from the Speaker issued a three line whip to all its 110 MLAs, including Manjhi to vote against the confidence motion.
"Despite being expelled from the party and being declared unattached member, Manjhi is binded by whip and if he violates it that it could cause his disqualification from the house," Shrawan Kumar, a former parliamentary affairs minister and a Nitish Kumar close aide, said.
He said except for the speaker, the three line whip in accordance with 10th schedule of Constitution (pertaining to Anti-Defection Law) has been issued also to seven ministers still in the Manjhi cabinet.
All the seven ministers have been suspended from the party.
The RJD and Congress who are supporting Nitish Kumar also issued whip to their members.
Considering volatility of the situation, Patna Senior Superintendent of Police Jitendra Rana said elaborate security arrangements have been made inside and outside the assembly.