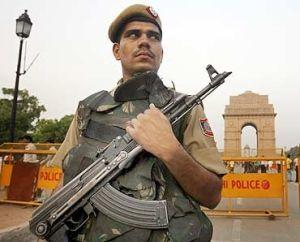 Home Minister Rajnath Singh has alerted states to strengthen security, reports
Security around high streets in the national capital, such as Connaught Place and Khan Market, has been stepped up following the 16-hour hostage crisis at Sydney's Lindt Chocolate Cafe earlier this week. The terrorist attack on a Peshawar school, killing nearly 145, has intensified the checks at many restaurants, cafes and popular hangouts.
Intelligence agencies have sounded the authorities on the possibility of a terrorist strike during US President Barack Obama's visit to India next month.

Home minister Rajnath Singh has alerted states to strengthen security.

"A red alert has been issued. With the recent incidents, a greater number of personnel have been deployed," said a police officer manning a checkpoint in Connaught Place, requesting anonymity.

At least six police personnel posted at different locations with popular shopping and dining outlets in New Delhi told Business Standard that instructions had been issued to them to be extra-vigilant over the next two months. "The red alert will likely be withdrawn in February," said another officer. Some of them referred to the incidents in Sydney and Peshawar, while recalling the Mumbai attack of 2008.

"How safe are we? That's a moot point," remarked S M Shervani, former president of the Federation of Hotel & Restaurant Associations of India.

"Mumbai was considered safe before November 26, 2008, wasn't it? There were CCTVs, barricades, metal detectors, security personnel -- were they enough?" Shervani said.

The terrorist attack at the Oberoi Hotel, Taj Mahal Palace and Leopold Café, among others in Mumbai, lasted 70 hours and left 164 dead and 300 injured.

Riyaaz Amlani, president of the National Restaurant Association of India, said, "We are ill-equipped to face a situation like this. There needs to be greater coordination between police and restaurant owners."

With thinning margins, there's not much owners can do by themselves, according to Amlani.