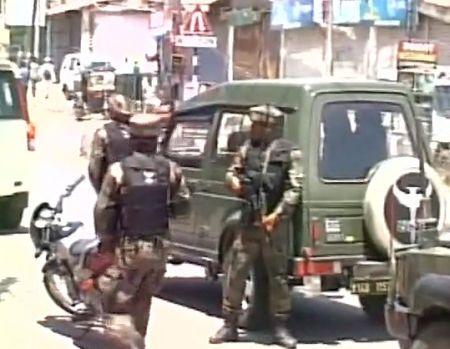 Striking for a second time in less than 24 hours in South Kashmir, militants on Saturday killed two police personnel in poll-bound Anantnag from where Chief Minister Mehbooba Mufti is contesting.
In a targeted action against security personnel, suspected militants opened fire at a police party in the main bus stand in Anantnag at 11.20 am injuring Assistant Sub-Inspector Bashir Ahmad and Constable Reyaz Ahmad who were rushed to a hospital where they succumbed.
The attack comes in less than 24 hours when militants of banned Hizbul Mujahideen ambushed a Border Security Force convoy at neighbouring Goriwan area at Bijbehara killing three of its personnel.
Saturday's attack in Anantnag is seen as an attempt by the militants to scare the voters as Mehbooba is seeking her election to the state assembly from here.
The seat, where elections are now scheduled to be held on June 22, had fallen vacant after the death of former chief minister and her father Mufti Mohammed Sayeed on January 7. Mehbooba is among nine candidates in the fray.
Police and Central Reserve Police Force have cordoned off the area and were carrying out searches at various places to nab the culprits.
Opposition National Conference hit out at Peoples Democratic Party-Bharatiya Janata Party government and said "instead of making tall claims of improved ground situation on papers, the state government should do something concrete on ground and ensure safety and security of people".
Party spokesperson Junaid Mattu said with elections round the corner in the assembly, ongoing tourist season and forthcoming Amarnath Yatra, "One expects that security should be at its best. But every now and then, loopholes within the security establishment stand exposed".
State Congress chief G A Mir questioned the PDP-BJP government credentials in tackling the law and order situation saying "fear is being created in the mind of the voters and it does not augur well for a healthy democracy".
The attacks also come against the backdrop of a boycott call for elections given by hardline pro-Pakistan Hurriyat faction led by Syed Ali Shah Geelani.