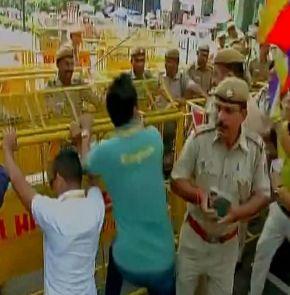 Ten Tibetans were detained on Wednesday morning after they staged a protest outside Chinese embassy against the visit of Chinese President Xi Jinping to India.
Protesters, who started staging demonstration around 11.30 am, also demanded independence for Tibet from China. "We are protesting against Xi's India visit. We want independence for Tibet from China where violations of human rights are on the rise," a protester said.
"Ten people have been detained by the police," a senior police official said.
As Tibetans started staging protest, police personnel beefed up security in and around the Chinese embassy. During their protest, they also tried to enter inside the premises of the embassy, however, they were prevented from doing so by the police personnel.
Scores of Tibetans have also been staging protest in Majnu ka Tila area in North Delhi since morning. Xi will arrive in Ahmedabad on a three-day visit to India.
Image: Tibetans protest against Chinese President's Xi Jinping's visit to India. Photograph: ANI/Twitter