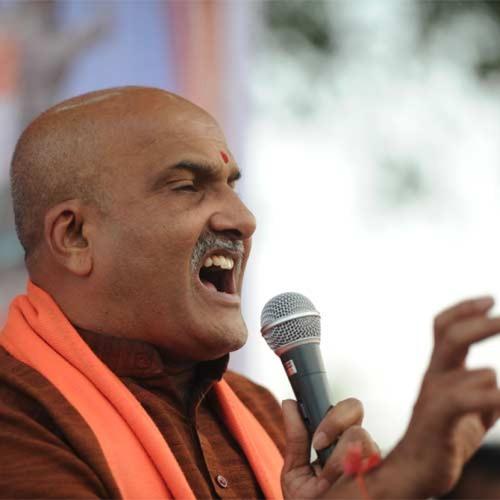 Sri Ram Sene chief Pramod Muthalik has said that he would try to join Bharatiya Janata Party, from where he was unceremoniously removed only a few hours after his inclusion in Karnataka.
"I will meet Prime Minister Narendra Modi and explain to him the misunderstandings that were created about me by some Karnataka BJP leaders. I have faith in Modi. He is a good leader and will take the country on the path of development. I would like to join BJP," Muthalik said at the backdrop of All India Hindu Convention at Ramnathi village.
The leader, 61, had hit the headlines after his organisation Sri Ram Sene attacked people going to pubs in Mangalore in 2009. Muthalik said he had apologised to the people for the attacks as "the way the pub culture was opposed was wrong".
He blamed a lobby of BJP leaders in Karnataka for his unceremonious exit from the party, after admitting him in March this year ahead of the Lok Sabha elections. "Wrong information was provided to the party high command by some Karnataka leaders who were afraid that if admitted in the party, I would emerge as a front rank leader. BJP president Rajnath Singh had no knowledge about me. He took a decision based on wrong inputs he received," he alleged.
When pointed out that Goa Chief Minister Manohar Parrikar was among the first leader to oppose his entry into BJP, Muthalik claimed that he (Parrikar) was 'misguided' by a senior Karnataka leader. "I will meet Parrikar in a couple of months and clear all the misunderstandings. We both belong to the same background of Rashtriya Swayamsevak Sangh. We have same ideology," he said.
Muthalik stated that his campaign is against drug, pub and sex mafia in the country, and Sri Ram Sene has been active in 12 states, and soon would be opening a branch in Goa. "I cannot be stopped from opening a branch in Goa. India is a democratic country," he said when pointed out that several local leaders had vehemently opposed his presence in the state.
The leader said he was not planning any attack on pub-goers in Goa, but wanted to take along communities which are also against pub and drug culture.