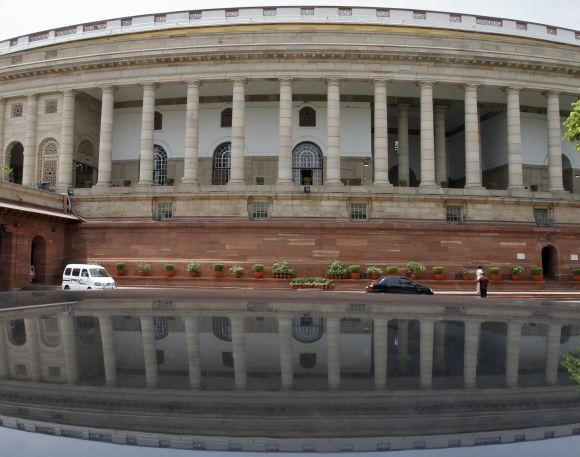 Notwithstanding reservations of judiciary, Parliament on Thursday took cleared two bills providing for a new mechanism for appointment of judges to higher judiciary by scrapping the collegium system that had come under attack from political parties and others.
The Rajya Sabha on Thursday approved with overwhelming majority the 121st Constitution Amendment Bill along with the National Judicial Appointments Commission Bill, 2014, a day after Lok Sabha gave its nod to the measures.
The Lok Sabha had passed the appointments commission bill with a crucial amendment suggested by opposition Congress that was accepted by the government.
The Constitution Amendment Bill was passed with 179 votes while noted lawyer Ram Jethmalani abstained. The other was approved by voice vote in a House of 245 as the ruling National Democratic Alliance is in a minority there.
The two measures were taken up separately after questions were raised by members over legislative competence of the House amid apprehensions that it could be struck down by the judiciary as 'ultra vires'.
A determined government asserted that Parliament is supreme and competent enough to enact laws and that it has no intention of transgressing on independence of the judiciary through the new law.
Law Minister Ravi Shankar Prasad underlined that the new measure of appointing judges to Supreme Court and high courts will come into effect only after ratification of the Constitution Amendment Bill by 50 per cent state assemblies.
The process could take up to eight months. After ratification, government will send it to the President for his approval.
With this step, the collegium system of judges appointing judges will be changed with a six-member commission headed by Chief Justice of India making the appointments and transfers.