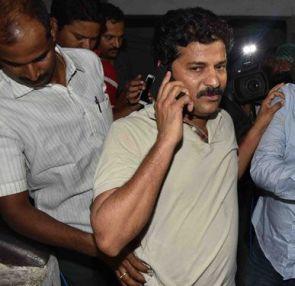 Telangana Congress Working President A Revanth Reddy, who had given a bandh call to protest against Telangana Rashtra Samiti chief K Chandrasekhar Rao's public meeting in Kodangal assembly constituency, was taken into preventive custody early on Tuesday.
Reddy, who is contesting from Kodangal constituency, in the December 7 assembly polls, was released in the evening, police said.
Condemning the police action, Congress president Rahul Gandhi said the TRS government resorted to it 'due to fear of defeat'.
'TRS cannot stop the Congress wave with arrests. Revanth Reddys arrest is pinnacle of KCRs dictatorship. Days are nearing to end TRSs anti-people governance. The arrest was due to fear of defeat. People are going to give rest to KCR (caretaker chief minister K Chandrashekar Rao) by defeating him,' Gandhi tweeted in Telugu.
Revanth Reddy was taken into preventive custody 'in view of apprehension of disturbance of public order and breach of security', Additional Director General of Police (Law and Order) Jitender told PTI.
He was released after Rao's meeting at Kosigi in the assembly segment got over in the evening and dropped at his residence in Kodangal, the ADGP said.
Reddy accused police and election officials of being 'biased'.
"Police are acting in a biased manned.DGP also did not follow court orders on providing security to me. Hundreds of police personnel broke doors and barged in tomy houseanddraggedme awaywhile I was sleeping at4 am.
"The incident reflects the state of affairs of the conditions under which people are living," Reddy said.
Reddy said caretaker chief minister K Chandrashekar Rao was resorting to pressure tactics after he failed to 'lure' his supporters and people of Kodangal.
He was picked up from his residence in Kodangal town of Vikarabad district early on Tuesday morning, police said.
Reddy's wife Geeta accused the police of breaking open the doors of their house and forcibly taking away her husband to an 'unknown location'.
Many of his followers were also taken into custody from different locations.
The incident drew sharp criticism from Congress which alleged that the caretaker chief minister K Chandrasekhar Rao was acting like a CM of a state 'under emergency'.
"The caretaker chief minister is showing authority more than a regular chief minister. We are condemning the incident.
"Though he is only a caretaker chief minister, he is performing duties as though it (state) was under emergency," All India Congress Committee spokesperson S Jaipal Reddy told reporters.
AICC in-charge of Telangana R C Khuntia, who was present at the press meet said Rao was afraid of Congress leaders and foisted false cases against them.
"He (Rao) is creating an emergency like situation in the state. We are going to file case with the Election Commission on the incident," he said.
On Saturday night, police had carried out raids at the Congress leader's residences following which he had given a protest call.
Prohibitory orders have been imposed in Kodangal town to prevent any untoward incidents in view of KCR's election rally.
Earlier, some TRS leaders had lodged a complaint with Telangana Chief Electoral Officer Rajat Kumar, alleging that Revanth was threatening to disturb Rao's
campaign, following which instructions were issued to the police to ensure smooth conduct of the meeting.
Telangana Congress chief Uttam Kumar Reddy condemned the police action and alleged that the election officials and police were behaving in a 'partial manner'.
He also sought to know about the status of the complaint made to the EC against TRS candidate of Kondangal segment, Narender Reddy with regard to alleged recovery of cash from him last week.
'Highly condemnable that Telangana Police arrested Congress Working President & Kodangal MLA Revanth Reddy at 3am today. This is what happens when you question Govt for not implementing promises,' TPCC said in a tweet.
In his reaction, Chevella MP Konda Vishweshwar Reddy, who had recently joined the Congress from TRS, termed the preventive detention as 'murder of democracy'.