Rajya Sabha on Wednesday witnessed noisy scenes as Leader of Opposition Mallikarjun Kharge demanded a joint parliamentary committee probe on the allegations against the Adani Group, and asked if the rise of the industrialist was due to his friendship with Prime Minister Narendra Modi.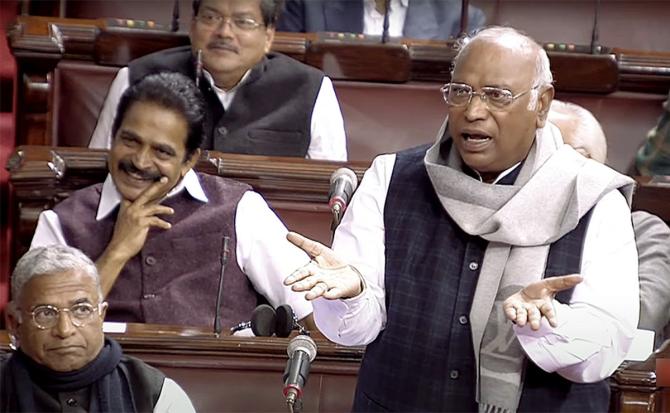 During the debate on the 'Motion of Thanks on the President's Address', Leader of the House Piyush Goyal and Union Finance Minister Nirmala Sitharaman strongly objected to 'insinuations' against the prime minister, who was also present in the House.
Rajya Sabha Chairman Jagdeep Dhankhar asked opposition members not to use the platform of Parliament to make 'anti-national' statements based on foreign reports.
To this, the opposition members voiced strong objection for questioning their patriotism.
In 2014, the prime minister had made the statement 'na khaunga, na khane dunga', Kharge said, and asked, "Was it a jumla?"
The Congress leader also wondered if the prime minister was pandering to a select few industrialists.
Without naming Gautam Adani, who is in the middle of a political storm after the United States-based short-seller Hindenburg Research's adverse report triggered a meltdown in the group stocks wiping out billions of dollars in market value, the Leader of Opposition said the wealth of a 'close friend' of Modi has grown 13 times in two-and-a-half years.
The individual's wealth has gone up from Rs 50,000 crore in 2014 to Rs 1 lakh crore in 2019, Kharge alleged, and wondered what miracle happened in two years that wealth of Rs 12 lakh crore has been acquired.
Stressing that he does not understand such a 'fast development', Kharge asked if it was because of the friendship.
To this, Dhankhar intervened and said the discourse cannot stoop to allegations which are not substantiated or to the use of 'loose expressions' and casting of aspersions without any basis.
Leader of the House Goyal also intervened and said Kharge was making an allegation which cannot be substantiated and about 'an association which has absolutely has no basis whatsoever'.
"He is talking of a purported wealth which does not have any merit. That is a share market calculation, in which the government has no role to play. It is for the regulators to see and for the share market participants to decide what value they give," Goyal asserted.
BJP member Sushil Modi also objected to the allegations and raised a point of order under Rule 238 (a), which states that no allegation of a defamatory or incriminatory nature shall be made by a member against any other member of the House unless the member making the allegation has given previous intimation to the Chairman.
Dhankhar said the points raised by the treasury bench is valid, and asked Kharge to put documents on record 'with respect to the allegations involving the name of the prime minister'.
"You have used expressions which are not appropriate," he said, adding they are 'stigmatic'.
Dhankhar asserted that every allegation made has to be authenticated.
Sitharaman also objected to Kharge's statement.
"It is one thing to say it is valuation, don't you understand? Please, alright, quote the valuation but they are subtly and overtly repeatedly insinuating against the honourable PM, that's what we are objecting to," she asserted.
When Kharge remarked that instead of strengthening public sector enterprises, which provide jobs to 10 lakh people, the government was letting public money to the tune of Rs 82,000 crore to be used to support the Adani Group, which employs 'only 30,000 people', Dhankhar intervened and said India has a robust mechanism on how people are awarded contracts.
"I am only cautioning the LoP that he is trying to give an impression that India is a country where contracts can be just given away," the chairman said, drawing sharp response from the opposition members.
Goyal said the chair is duty-bound to protect Indians to ensure that the national interest is not compromised.
Dhankhar said any comments made in the House should be in national interest and should be authenticated.
It cannot be an allegation without substance, he added.
Opposition members then jointly asked the Chairman to point out the anti-national comments that Kharge has made.
"Why I say so? An expression was given by the Leader of the Opposition that the largest democracy on earth is giving contracts like this," Dhankhar said.
Kharge retorted on the anti-national remark and said,"I differ with your opinion. If I speak the truth it is anti-national. I am not anti-national. I am more patriotic than anybody of you. I am a 'bhoomiputra'... don't try to suppress my feelings. You are looting the country and telling me that I am anti-national."
He then resumed his speech with a demand for setting up the JPC.
"If the scamster turns out to be pure like Harishchandra , we will go and garland them," he added.
Goyal intervened and said a JPC is set up when there are scams like 'Coalgate' or the 2G scam or there are allegations on the government on the issue of securities.
"If someone gives fact, any allegation is made on the government, someone should apprise that any contract has been given, someone should apprise anything wrong has been done then discuss it (JPC)," he said.
Kharge said he was unable to understand why ruling party members were running away from setting up a JPC.
Taking part in the debate, Bikash Ranjan Bhattacharyya (Communist Party of India-Marxist) said, "The strength of a government lies in its power to face the opposition...if you are an honest government, you should not be scared of any investigation. Now the entire House is demanding a JPC (joint parliamentary committee) to have an investigation in a particular corporate affair. Why are you scared of it? Sir, from your chair, direct the treasury bench to go for JPC...without this (JPC), the presidential address will take us nowhere."
All India Trinamool Congress member Jawhar Sircar said, "Enough has been spoken about the issue. But the only thing I would like to highlight is the role of the regulatory authorities...the way regulatory authorities collapsed in the face of hard facts when Adani Green Energy share value shot up by 5,500 per cent in two to 2.5 years. No regulator, SEBI (Securities and Exchange Board of India) looked the other way around."
"At every point of time, the Reserve Bank has failed us. At every point of time, the DRI (Directorate of revenue intelligence) has failed us. DRI did take some steps.. but that was certainly not commensurate with the steps that should have been taken", he added.
Referring to the demand for a JPC, Sircar stressed on his demand for a time-bound Supreme Court-monitored inquiry.
Manoj Jha (Rashtriya Janata Dal), N R Elango (Dravida Munnetra Kazhagam) and Aneel Prasad Hegde (Janata Dal-United) also participated in the debate.