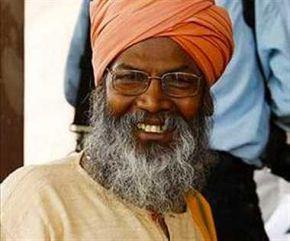 Bharatiya Janata Party's Sakshi Maharaj has kicked up another row. Controversy's child Sakshi was severely criticised on Monday for linking Rahul Gandhi's visit to Kedarnath to the devastating Nepal earthquake.
Speaking to the media in Haridwar, Sakshi Maharaj reportedly said that since Rahul Gandhi went to the holy shrine without purifying himself, the earthquake was bound to happen.
His remarks were severely criticised by the Congress, saying that the government was trying to "communalise and politicise" a grave human tragedy.
"In a most unfortunate and petty manner, certain habitual motor mouth offenders of the BJP -- cohorts of the prime minister and BJP President Amit Shah -- are trying to communalise and politicise a grave human tragedy.
"If media reports are to be believed, BJP leader and MP Sakshi Maharaj now famous for asking women to produce 10 babies, eulogising the killers of Mahatma Gandhi and comparing humans with dogs for sterilisation, are now ascribing the earthquake in Nepal to Rahul Gandhi's visit to Bhagwan Kedarnath," party spokesperson Sushmita Dev said.
Dev said in doing so, he has not only "denigrated" all those who have faith in Bhagwan Kedarnath but the victims of this huge tragedy.
"It will be better if the PM and Amit Shah stop perpetuating rabid politics that has now reached the stage of denigrating even Bhagwan Kedarnath through his chosen cohorts. We demand that the PM and Amit Shah take immediate action against Sakshi Maharaj," she said.
While slamming the BJP leader's remarks, Dev said our attention and efforts at this time should be aimed at relief, rescue and rehabilitation.
The Congress spokesperson also added that her party MPs have decided to donate one month's salary to the relief fund.