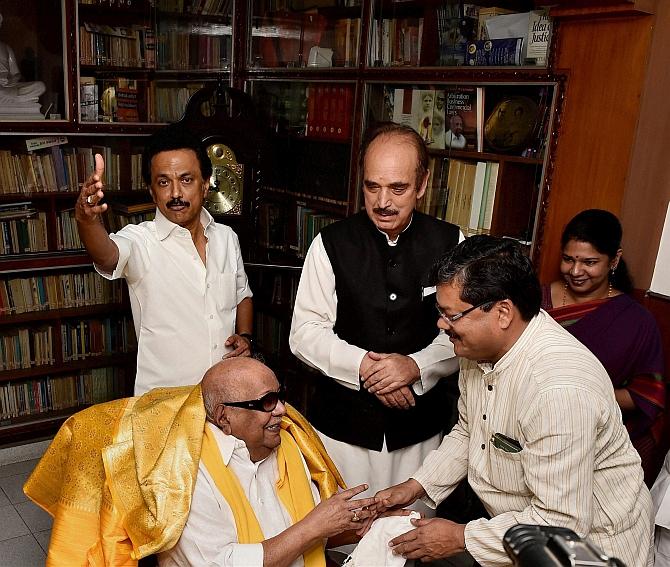 Ending intense negotiations spread over weeks, the Dravida Munnetra Kazhagam on Monday allotted its key ally Congress 41 seats for the May 16 assembly polls.
The bilateral discussions to identify the constituencies each of them would contest will begin later on Monday.
"We have signed (an agreement) that allots 41 seats to Congress," senior Congress leader Ghulam Nabi Azad told reporters in Chennai after inking the deal with DMK chief M Karunanidhi.
Jointly addressing reporters with his colleague Mukul Wasnkik, Tamil Nadu Congress Committee chief E V K S Elangoan and DMK leaders led by party treasurer M K Stalin, Azad said they would work to emerge victorious.
The agreement comes against the background of intense bilateral discussions between the DMK and the Congress. Also, the TNCC held a series of discussions with its state and central leadership.
Recently, Elangovan held talks with party vice president Rahul Gandhi as well over the issue.
It was decided by Tamil Nadu Congress to push for at least 45 seats and in a worst case scenario climb down a few seats and conclude the deal and it has worked out as was expected.
Azad said the rest of the seats would be shared among the DMK and other allies.
"Of course, the major share, the number (of seats) will go to the DMK but there are other allies also and the DMK has already tied up with other political parties," he added.
"This time it is the turn of a DMK-led government and I am sure under the leadership of Karunidhiji, the party will be able to form the government in Tamil Nadu," he said, adding, "All partners would work sincerely to ensure victory."
Pointing to Stalin, he said, "Here is the young leadership, and we have signed 41 seats."
Stalin referred to discussions held earlier and said, "It has been decided today that Congress will contest in 41 seats, as part of the DMK front, and an agreement has been signed."
He said they are confident of 'driving out' Jayalalithaa's All India Anna Dravida Munnetra Kazhagam from the seat of power.
"We are confident we will achieve it," he said.
Talks will commence this evening to identify the constituencies that would be fought by the Congress and the DMK, he said.
Karunanidhi and Azad signed the pact in the presence of top leaders of both parties including Wasnik, former ministers of DMK Duraimurugan, E V Velu and party MP Kanimozhi.
With the present allotment to the Congress, the DMK has so far allotted 54 seats to its allies.
After its efforts to cobble up a formidable alliance by roping in actor-turned-politician Vijayakanth-led Desiya Murpokku Dravida Kazhagam into its fold did not materialise, the DMK began the exercise of speeding up work to seal ties with smaller outfits and conclude seat-sharing talks with all partners.
The DMK allotted the Indian Union Muslim League, its long time ally, five seats followed by five seats to Manithaneya Makkal Katchi, another Muslim-party.
Also, it allotted one seat each to former Indian Administrative Services officer-led Dalit party Samuga Samathuva Padai, Tamil Nadu Vivasayigal-Thozhilalargan Katchi and Perunthalaivar Makkal Katchi.
Totally, the DMK has allotted 54 seats to its allies out of the total 234 assembly constituencies in Tamil Nadu and it is expected to identify constituencies that would be contested by them.