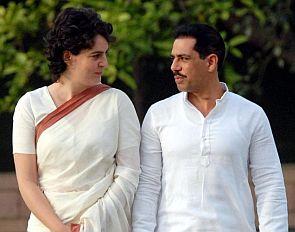 The Congress has alleged a Bharatiya Janata Party hand in the land deal controversy in Haryana involving Robert Vadra, alleging that IAS officer Ashok Khemka, who "exposed" the land deal with DLF, is playing into the opposition's hands.
Questioning the timing of the raking up of Khemka's views on Vadra's land deal, Congress supported Uttar Pradesh IAS officer Durga Shakti Nagpal's role in acting against the sand mafia and said no parallel can be drawn between her and Khemka who is openly giving interviews to the media.
"I feel BJP has a role behind it. BJP is politicising the issue. This man is playing into the hands of BJP and attempt is being made to draw a parallel between this issue and that of Durga Shakti Nagpal in UP, which is wrong," Congress Spokesperson Meem Afzal said.
He said, "Unlike Durga Shakti Nagpal who is following the rules and has not gone to the media, this man (Khemka) is giving interviews to TV channels."
Afzal said the timing of raking up the issue by Khemka again also "raises doubts" as it has come when Nagpal's issue is in the spotlight.
"What is surprising is that when he gives an interview to TV channels, immediately after that BJP endorses his stand," he said, adding "it clearly shows that BJP is behind all this."

The Congress spokesperson said Khemka has only given a reply and not a report. The three-member committee consisting of senior officers had already given its report which had rejected Khemka's contentions, he said.
"There is a difference between a report and a reply. Is he raking up the old issues that he had raised earlier on which the committee has already given a report?," Afzal said.

He also rued that while Khemla's reply is being played up, the committee report, which has endorsed the state government's stand, is not being talked about.
Congress President Sonia Gandhi's son-in-law Robert Vadra's land deals in a Haryana village have returned to haunt the Congress party and its chief as whistleblower Khemka alleged that Vadra "falsified documents" for 3.53 acres of land in Gurgaon and "pocketed" large premium on a commercial colony license.
In his "voluminous reply" submitted to Haryana government's three-member enquiry committee set up in October last to look into Vadra-DLF deal, Khemka is understood to have alleged Vadra executed a series of "sham transactions" for 3.53 acres of land in Shikohpur village of Gurgaon.