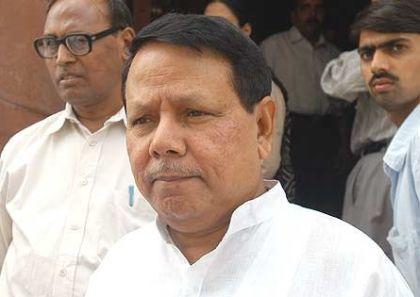 Former Union minister Priya Ranjan Dasmunsi, once a key Congress leader from West Bengal, passed away in New Delhi on Monday after a prolonged illness.
He was 72.
Dasmunsi, who had been in a coma since 2008 after he suffered a stroke, died at the Apollo Hospital.
"He had been critically ill over the past one month and succumbed to the illness at 12.10 pm. His family members including wife Deepa Dasmunsi and their son were at his bedside at that time," a hospital spokesperson said.
A five-time MP from Raiganj in West Bengal, Dasmunsi headed the All India Football Federation when he was taken ill in 2008 and had been in hospital ever since.
The former president of the Indian Youth Congress and the West Bengal Congress -- Priyada to most supporters-- held the key ministries of information and broadcasting and parliamentary affairs in the UPA-I government led by Manmohan Singh.
President Ram Nath Kovind, Prime Minister Narendra Modi and Congress president Sonia Gandhi condoled the death of the former minister.
"Sad to hear about the demise of former Union Minister and veteran political leader Priya Ranjan Dasmunsi. He contributed much to Bengal and to the administration of football in our country," President Kovind said.
Prime Minister Modi described him as a popular leader with rich political and administrative experience.
"He did notable work to popularise football in India. Saddened by his demise. My thoughts are with Deepa Dasmunsi ji and family as well as his supporters," Modi tweeted.
Born on November 13, 1945, in Chirirbander in Dinajpur East district, now in Bangladesh, Dasmunsi became the president of the state Youth Congress and a member of the All India Congress Committee in 1970 at the young age of 25.
He was first elected to the Lok Sabha in 1971, when he was barely 26, and became the president of the Indian Youth Congress the same year under the charge of Indira Gandhi.
The West Bengal Congress leader was elected a member of the all-powerful Congress Working Committee in 1977 and was the Union minister of state for commerce from 1985 to 1989.
He was also the West Bengal Congress chief in 1985.
Dasmunsi became the Union cabinet minister for water resources in May 2004 and the minister of information and broadcasting and parliamentary affairs in November 2005.
Congress president Sonia Gandhi, in her message, termed his death an "irreparable loss" to the party.
Describing Dasmunsi as a "devout" political activist and "one of the tallest" leaders of West Bengal, she said he served the party and government illustriously.
"His immense work at the grassroots would be remembered for posterity," Gandhi said.
Despite his prolonged illness, he remained popular among his people, she said, adding, "His death is an irreparable loss to the Congress party and the country."
Gandhi expressed solidarity with the family, particularly his wife Deepa, a former minister, and other supporters.
Top Congress leaders including former prime minister Singh, party chief Gandhi and vice president Rahul Gandhi paid homage to the former minister after Dasmunsi's body was brought to the Congress headquarters on Akbar Road in New Delhi.
Deepa Dasmunsi said the body would be taken to Kolkata and then to Raiganj, his home-town.
The Congress vice president described him as a good human being with a brilliant political mind.
"We will miss Priya Ranjan Dasmunsi ji. A brilliant political mind and a good human being. Bengal and the Congress party have lost a tall leader. Our thoughts are with Deepa ji today," he tweeted.
A host of other leaders have also condoled the death of Dasmunsi.
"Heard about the sad demise of Priya Ranjan Dasmunsi ji. My condolences to his loved ones and colleagues," Information and Broadcasting Minister Smriti Irani tweeted.
Her junior minister Rajyavardhan Rathore referred to Dasmunsi's "rich legacy" in sports.
"Saddened by the demise of veteran leader Shri Priya Ranjan Dasmunsi. He leaves a rich legacy in the field of sports, especially football...," he tweeted.
West Bengal Chief Minister Mamata Banerjee expressed grief over Dasmunsi's death, calling it a 'great loss'.
"I am deeply saddened by the death of Priya Ranjan Dasmunshi. My deep condolence to members of his family, well-wishers and party workers. He was a very popular leader in Bengal since 1972..." Banerjee posted on her twitter handle.
The Trinamool Congress chief said, "He (Dasmunsi) was in coma for almost 9 years. A massive stroke in 2008 virtually ended his political career. Otherwise he could have done more in his political life. He was still alive but now he is no more. It is a great loss. May his soul rest in peace," she tweeted.
Banerjee also declared half-day holiday for state government employees as a mark of respect for Dasmunshi.
Photograph: ANI