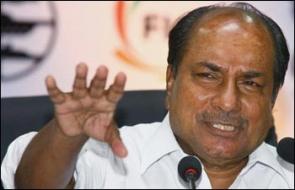 Despite Prime Minister Manmohan Singh's praise for Bihar Chief Minister Nitish Kumar, Congress kept cards close to its chest on whether its members of Legislative Assembly would vote in favour of the trust vote sought by him on Wednesday
"We are observing... The (A K Antony) committee will decide whether we will align with it... It will decide," party spokesman Meem Afzal told reporters on a volley of questions on the issue of support to the Janata Dal-United government.
The Congress had formed a committee headed by Antony to go into the issue of alliances as part of finding new allies ahead of the Lok Sabha polls.
Asked whether the Congress would not support Kumar in the vote despite the prime minister hailing him as a secular leader, Afzal merely said, "The government is ours and the PM too. Whatever he has said must have said after due consideration and the party thinks it proper."
He sidestepped questions on the issue of support to the JD-U indicating that the Congress was weighing pros and cons of the matter.
A senior party leader, who declined to be identified, remarked as to how could the Congress take the decision of supporting a party in 17 hours after that party was with the Bharatiya Janaya Party for 17 years.
Kumar, who will be seeking a trust vote on the floor of the assembly on Wednesday, seems set to have a smooth sailing. Though the magic number in the 243-member House is 122 and the JD-U has only 118 members, four of the state's six independent MLAs have pledged their support to him. As for the other two independent MLAs.
The JD-U's strategists also expect tacit support from all secular parties, including the Congress and the Communist Party of India. "We hope the four Congress MLAs and one CPI MLA will either vote in favour of the motion or abstain from voting since they would not like to be seen (to be) with communal forces," said a party leader.