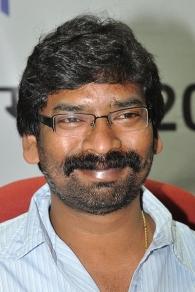 The Congress and the Jharkhand Mukti Morcha on Thursday inched closer to government formation in Jharkhand, with JMM leader Hemant Soren holding a long meeting with All India Congress Committee general secretary B K Hariprasad, who is in-charge of Jharkhand affairs.
Hemant Soren, son of JMM leader Shibu Soren, who is tipped to be the next chief minister, held a two-and-a-half hour meeting with Hariprasad to work out the modalities of the new coalition government which will work on a Common Minimum Programme.
Sources said the announcement about the new government in Jharkhand may be made within a day or even by today evening.
The CMP has also been discussed and final touches are being given.
The tribal-dominated state is under President's Rule since January 18 after the collapse of the Arjun Munda-led Bharatiya Janata Party government, following the withdrawal of support by the JMM on January 8.
President's Rule in the state is set to expire on July 18.
Congress has agreed to have a chief minister from JMM in the state. The regional party has consented to give a lion's share of nine to ten Lok Sabha seats to Congress, out of a total of 14 in the state.
Rashtriya Janata Dal chief Lalu Prasad has assured both JMM and Congress of his party's support to the new government.
JMM and Congress, which have 18 and 13 Members of Legislative Assembly respectively, need the support of 11 more legislators to form a government in the 81-member state assembly. RJD has 5 MLAs in the House.
Communist Party of India -- Marxist Leninist, Marxist Coordination Party, Jharkhand Party - Ekka, Jharkhand Janadhikar Manch and Jai Bharat Samta Party have one member each, besides an Independent candidate.
Political uncertainties have dogged Jharkhand ever since it was carved out of Bihar in 2000, as the state has remained under President's Rule thrice -- 2009, 2010 and 2013.
Image: JMM leader Hemant Soren