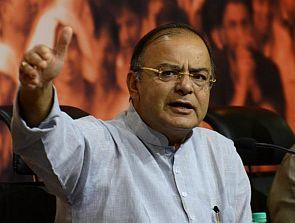 Accusing Congress of holding democracy to ransom over the National Herald case, Finance Minister Arun Jaitley on Saturday said the government has no role in the issue and will wait for court verdict for before taking any action.
Without naming Congress president Sonia Gandhi or Rahul Gandhi, Jaitley said the Congress leaders have got stuck in a 'chakravyu' created by themselves and are now obstructing Parliament for it.
The government, he said, "will wait for the outcome of court proceeding. If there is a tax angle, then taxation authorities will ask questions for which there is a due process".
If anyone has an issue with tax authorities, they can go in for appeal, he added.
"That action has so far not been taken. ED has not issued any notice. Tax authorities have not passed any assessment order," he said at Aaj Tak Agenda programme.
Rejecting suggestions that there was bitterness to the extent of enmity between the government and the opposition, he said "there is no enmity".
There are issues on which Parliament functions is unanimous and on others it differs. "In this case, what step has the government of India taken for which Parliament can be obstructed," asked.
"What is the reason for obstructionism today. That some private complaint is filed, a magistrate issues notice, you move the high court and high court grants you a stay. After hearing, the high court dismisses it. Now you either go to trial court or you challenge it in Supreme Court. Government has not interfered in it," he said.
Jaitley said the provocation for the Congress to stall the Parliament where the crucial GST bill is pending, was that the party leaders are not able to come out the 'chakravyu' they have created.
"And their lawyers are not able to help them...and finding themselves in difficulty, they are holding the democracy of the country to ransom," he said.
He said he would not like to comment on the issue that is under investigation.
"There has been no notice issued from the government (to Congress leaders). No one has been summoned. There is no file against anyone in the Enforcement Directorate. ED has not issued any letter to anyone till date," Jaitley said.
Stating that the Congress has formed its argument on a wrong basis, he asked whether any of its leaders has ever received a letter from the ED.
"But you (Congress) presume and then repeat it again and again and start believing in it. And start paralysing the country's democracy," he said, referring to the party stalling Parliament alleging "vendetta politics".
Jaitley said a private individual filed a complaint in the court and the government is not party to it and they first got a stay and now that has been vacated.
"You have lost. Whatever is the judicial process you do it now. Government has not stepped into it," he said.
Asked about the Congress charge that ED Director Rajan S Katoch had been transfered out because he had given it a clean chit in the case, the minister said Katoch was holding additional charge of ED besides being Heavy Industries Secretary.
There was a need for a full-time person, he said. "He spent half a day in one office and half in the other. So he went to his main assignment and another officer is officiating in ED."
He said neither the first officer nor the second had sent any letter to Congress. "His transfer had no relation with the (National Herald) case."
The new officer is the past four months has not issued any notice, he said.
ED, he said, comes into picture when there is a predicate offence, made profit out of it and are using profit of crime.
At one stage, ED felt the issue was with tax authorities. When Subramaniam Swamy filed criminal case and summons issued, then they were told it is your jurisdiction now. But the very next day high court granted stay.
That stay has been vacated only 4-5 days back. "ED will see what action is to be taken. Till now no action has been taken," he said.
Asked about Swami's tweet congratulating the government on removal of Katoch, Jaitley asked can Parliament be paralysed based on one tweet. "Is Indian democracy so fragile."