The Congress wants the 28 seats it won in 2012 plus 20 seats where the party was runner-up plus 57 seats where it was ahead of the SP in 2012.
Amit Agnihotri reports.
Illustration: Dominic Xavier/Rediff.com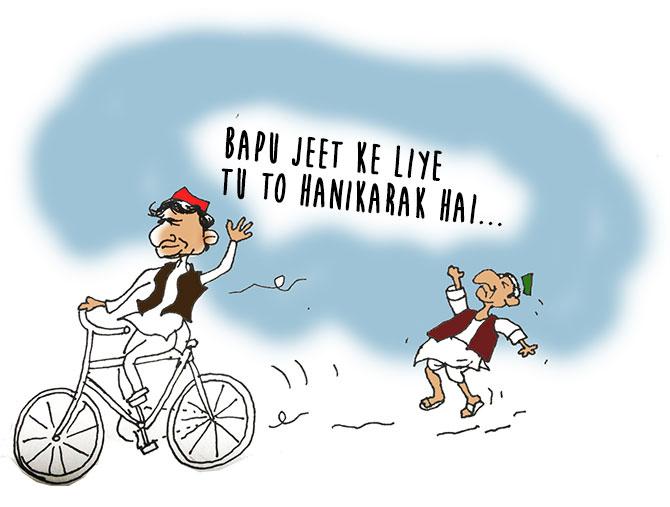 The Congress bargained hard with the Samajwadi Party on Tuesday, as the two parties tried to work out a seat-sharing formula as part of a grand alliance to counter the Bharatiya Janata Party in the Uttar Pradesh assembly polls 2017.
Shortly after confirming the alliance in Lucknow, Congress leader Ghulam Nabi Azad, who is in charge of UP affairs, started seat-sharing negotiations with SP General Secretary Ram Gopal Yadav.
The development came a day after Akhilesh Yadav was awarded the party's official symbol, the bicycle, in what is seen as a major political setback for his estranged father, Mulayam Singh Yadav.
Mulayam, on his part, submitted 38 names to Akhilesh he said must be included in the final SP candidate list, in case he wanted his father's support.
Mulayam's list left out his brother Shivpal Yadav, though it did include Shivpal's son, Aditya Yadav.
Party sources said though the SP was the major player in the state, and would naturally like to maintain an upper hand and a bigger share of seats, it was open to the concerns of its alliance partners.
Voting for 403 assembly seats in UP will be spread over seven phases starting from February 11 and ending March 8. The results would be out on March 11.
According to sources, the Congress would pitch for around 100 seats for itself, leaving around 25 for another prospective ally, the Rashtriya Lok Dal.
The Congress list would include all the 28 seats it had won in the 2012 assembly polls, another 20 odd seats where the party was runner-up.
It would also lay claim over 57 more seats where it was ahead of the SP nominees in the 2012 polls.
Of the 28 legislators the Congress had in 2012, six were expelled last year after they voted against party nominee Kapil Sibal in the Rajya Sabha elections.
These include, Nawab Kazim Ali of Rampur, Sanjay Jaiswal of Basti, Vijay Kumar Dube of Kushinagar, Mukesh Shrivastav of Payagpur in Bahraich, Madhuri Verma of Nanpara in Bahraich, Mohammad Muslim of Gauriganj in Rae Bareli and Dilnawaz Khan of Sayana in Bulandshahar.
Three more legislators, Mavia Ali of Saharanpur, Ruby Prasad of Dudhi in Sonebhadra and Rita Bahguna Joshi of Lucknow Cantonment left the Congress, reducing the current tally to 20.
Among the seats where the Congress has sitting MLAs include Sanjay Kapoor in Bilaspur in Rampur, Ajay Kapoor in Kidwai Nagar in Kanpur, Uma Kanti Singh in Jalaun, Gayadeen Anuragi in Hamirpur, Viaks Singh in Banda, Daljit Singh in Chhindwari, Laitesh Tripathi in Mandiav, Ajai Rai in Pindra, Nadeem Javed in Jaunpur, Anugraha Narain Singh in Allahabad North, Aradhana Mishra in Rampur Khas, Radhey Shyam in Jagdeeshpur, Munna Singh in Nantawna and Ajay Singh Lallu in Tumkuiraj, Pnkaj Malik in Shamli, Pradeep Mathur, Mathura, Banshi Pahadia in Bulandshahar, Akhilesh Pratap Singh in Deoria, Gajraj Singh in Hapur and Pradeep Chaudhary in Saharanpur.
Among the seats where the Congress was the runner up in the 2012 polls include Bahat, Nukur, Saharanpur City, Saharanpur Rural, Maniharan(Rampur), Purkaji(Muzaffarnagar), Jewar (greater Noida), Bilaspur (Pilibhit), Leharpur (Sitapur), Govindnagar (Kanpur), Hussainganj (Fatehpur), Basti Sadar, Farinda, Padrauna, Varanasi South and Varanasi Cantonment.
Both Congress and SP leaders acknowledged they were racing against time to finalise seat sharing as the Election Commission's notification for phase I came out on January 17, in a way opening the nominations.
Azad said a formal announcement on seat sharing could come either Wednesday or Thursday after which both the parties would be able to chalk out their campaign schedules.