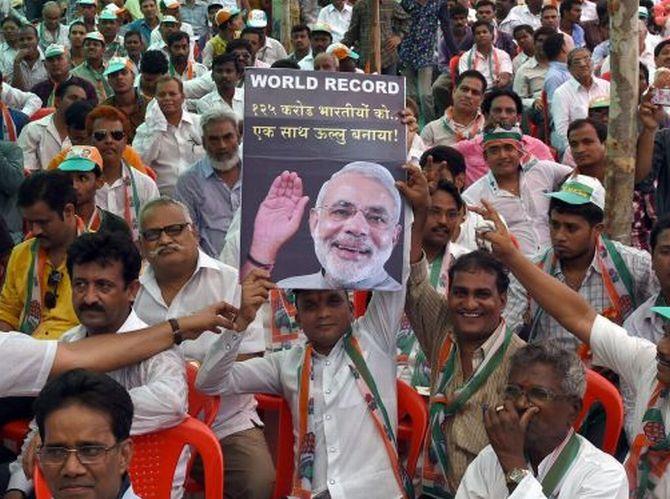 Congress party workers protest against the BJP government in Mumbai as part of several AICC rallies decrying the Modi government. Photograph: Mithesh Bhuvad/ PTI
Over 200 Congress workers were briefly detained on Tuesday while demonstrating against one-year rule of Narendra Modi government near old residence of Bharatiya Janata Party president Amit Shah and at the city office of the ruling party.
The protest was part of the All India Congress Committee's efforts to "expose" the Modi government on various fronts, a senior Congress leader said.
Earlier in the morning, around 170 workers and leaders gathered outside the BJP office in Khanpur area and started raising slogans against the Modi government for non-fulfilment of poll promises.
"We have been asked by the AICC to hold such programs across the state to expose this government. Our workers made a list of all the promises, such as depositing Rs 15 lakh in bank account of every citizen, made during the election and tried to seek answers from the BJP leadership about their current status after one year," said state unit Congress spokesperson Manish Doshi.
After learning about the agitation, personnel of Shahpur police station rushed to the spot and detained 169 protesters, including 86 men and 83 women, said Shahpur police station inspector R S Patel.
"The detainees include local Congress MLA Gyasuddin Shaikh. They were detained at 10.35 am and released later," he said.
Meanwhile, Naranpura police detained 84 Congress workers, including 43 women, near the old residence of Shah in Naranpura area. Though Shah no longer lives in the area but has an office there.
Prominent among those detained by police are city Congress president Chetan Raval and state women wing president Sonal Patel.
"Before they could reach near Shah's residence, we have detained them near Sanghvi high school. We later released them at 1 pm," said Naranpura police inspector D R Dhamal.