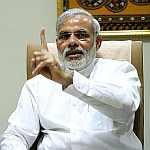 The Congress on Thursday lambasted the findings of the M B Shah Commission that has given 'clean chit' to the Narendra Modi government in nine land allotment cases.

The one-man commission of Justice M B Shah submitted its interim report, which has found no illegality in land allotments.

"This was perhaps the first and the only commission of inquiry, which has completed its probe within four months and without examining a single witness, it has submitted its interim report," Gujarat Congress president Arjun Modhwadia told the media. "This is not an inquiry commission, but a 'Save Modi' commission," he alleged.

"When we raised the issue of corruption of gigantic scale by the Modi government, we never demanded a probe by a panel which only has power to recommend. When we submitted our memorandum to the then President of India, our expectations were of an investigation either by

the CBI, any independent agency, by Lokayukt or by any sitting judge of the Supreme Court or the high court and wanted criminal charges be framed under the Prevention of Corruption Act," he added.

The Congress leader further alleged that when Modi came to know of this from a media report, he announced the formation of Justice M B Shah Commission.

"It was done only to save his skin from the slew of corruption cases. The CM was in the know of the impending appointment of Lokayukt in the state by the governor," he said.

An interim report submitted by the commission was tabled before the state cabinet, which met on Wednesday under the leadership of Modi and accepted the conclusion of the probe panel.

"The commission has submitted an interim report on its findings and concluded that the state government has adhered to proper procedures of land allotment and no illegality has been committed," state spokesperson and Health Minister Jainarayan Vyas had said on Wednesday.