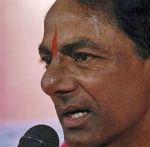 Telangana Rashtra Samiti and YSR Congress Party on Thursday gave separate notices in the Legislative Assembly for a no-confidence motion against ruling Congress government in Andhra Pradesh.
K Chandrasekhar Rao-led TRS has 17 MLAs in 294-member House and is banking on the support of Communist Party of India, Bharatiya Janata Party, Lok Satta Party and some Independents.
To a query if the party has the backing of 30 MLAs, the required minimum number needed to introduce the no-confidence motion, TRS MLA T Harish Rao replied in the affirmative.
Separately, YSRCP, which has 17 MLAs, also submitted its notice to the Speaker.
YSRCP MLA Shobha Nagireddy said, "Her party is ready to extend support to whoever moves the no-confidence motion on people's problems".
Meanwhile, the Assembly was adjourned for an hour, minutes after the session began as Opposition members trooped into the well of the House and raised slogans.