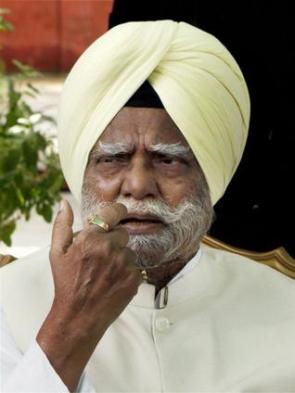 The Congress has revoked Buta Singh's expulsion and assigned him to hold back-channel talks with Jayalalithaa and Mayawati.
Rahul Gandhi's drive for clean politics appears to have hit a roadblock.
The Congress vice-president may reiterate the need for probity in public life, but his party does not seem to heed Rahul.
Ahead of the Lok Sabha election, the All India Congress Committee panel on discipline has revoked former Union home minister Buta Singh's expulsion, sources say.
The 79-year-old veteran has been informally assigned to hold back-channel negotiations with Tamil Nadu Chief Minister and All India Anna Dravida Munnetra Kazhagam boss J Jayalalithaa and Bahujan Samaj Party supremo Mayawati so that both parties can enter a pre-election alliance with the Congress.
A long-standing player in politics, Buta Singh's career has been dogged by controversies.
He turned rebel after he was denied a Congress ticket to contest the 2009 Lok Sabha election. He contested as an Independent from Ganganagar in Rajasthan and was expelled by the party.
Earlier, in 2006, he had to resign as Bihar's governor following a strong indictment by the Supreme Court in the case relating to dissolution of the state assembly the previous year.
The apex court ruled that Buta Singh had acted in haste and misled the Union Cabinet to prevent the Janata Dal-United from forming the government.
At 24, Akbar Road, the Congress's national headquarters, many wonder about the wisdom of bringing a controversial figure like Buta Singh back into 'action' at a time when a wave of clean politics is sweeping Delhi.
Buta Singh's camp claims his return has Congress President Sonia Gandhi's endorsement.
Image: The Congress has revoked the expulsion of former Union home minister Buta Singh