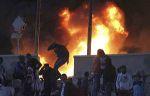 A bill allowing the Centre to declare an area in a state as communally disturbed on its own and send central forces without the state's request, is likely to be introduced in the ongoing session of Parliament.
The home ministry is expected to send the draft of the controversial Communal Violence Bill to the Union Cabinet for its approval after a legal vetting of the Law Ministry before being introduced in Parliament which meets on April 22 after a four-week recess.
The bill, which is bound to face strong opposition from the BJP and some other non-Congress parties, also provides for transfer of cases outside the state concerned for trial and take steps to protect witnesses, sources said.
The draft bill imposes duties on the Central and the State governments and their officers to exercise their powers in an impartial and non-discriminatory manner to prevent and control targeted violence, including mass violence, against religious or linguistic minorities, SCs and STs.
The home ministry draft "largely sticks" to the provisions in the 'Prevention of Communal and Targeted Violence (Access to Justice and Reparations) Bill, 2011' prepared by the National Advisory Council led by UPA Chairperson Sonia Gandhi.
The bill aims to check targeted violence against the minorities and also proposes a body -- the National Authority for Communal Harmony, Justice and Reparation -- be constituted by the Centre to exercise the powers and perform the functions assigned to it under this Act.
The BJP is strongly opposed the proposed legislation and has termed it as "dangerous" saying it will harm federal structure of the Constitution. It has and questioned how the bill could presume that the majority community is always responsible for riots.
The proposed legislation is also likely to face opposition from Trinamool Congress, Samajwadi Party, Biju Janata Dal, AIADMK and Akali Dal which are in power in West Bengal, Uttar Pradesh, Odisha, Tamil Nadu and Punjab respectively.