The Defence Research and Development Organisation has said that the extended range version of the BrahMos missile of 450 km is likely to be tested on March 10.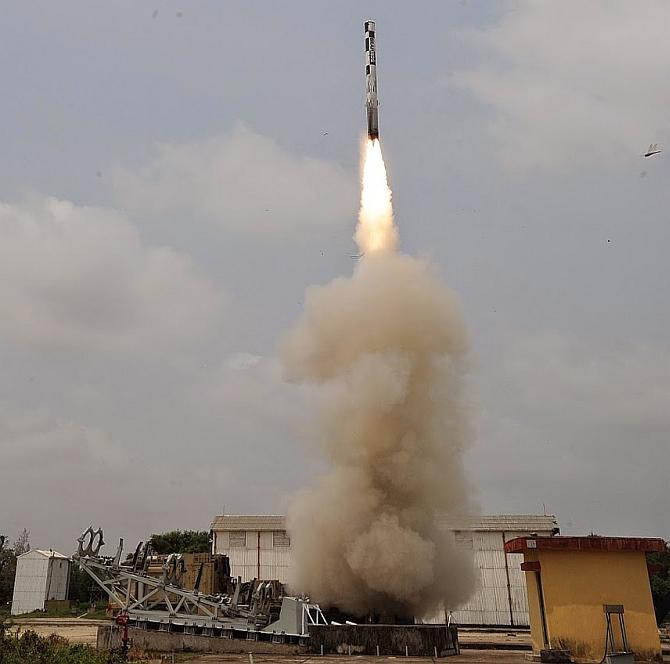 Responding to a question whether the Russia has agreed to enhancement of the range to 450 km and when it will be tested, DRDO Chief S Christopher said on the sidelines of the Aero India 2017 in Bengaluru, "Yes... March 10 is the tentative date."
He said that another version of BrahMos with a range of about 800 km was under development and it will take about two-and-a-half years for it to get tested.
BrahMos is a joint venture with Russia.
The government on December 16 last had said that India and Russia have agreed to extend the range of BrahMos supersonic cruise missiles beyond the current 300 km, with the country joining the elite Missile Technology Control Regime.
Membership of the MTCR, a key anti-proliferation grouping, helps India procure high-end missile technology and surveillance systems by leading manufacturers, which are allowed to be accessed by only MTCR member countries.
The aim of the MTCR is to restrict the proliferation of missiles, complete rocket systems, unmanned air vehicles and related technology for those systems capable of carrying a 500 kilogramme payload for at least 300 kilometres, as well as systems intended for the delivery of weapons of mass destruction.
In its first entry into any multilateral export control regime, India joined the MTCR in June last as a full member.
China, which had stonewalled India's entry into the 48-nation Nuclear Suppliers Group at the Seoul plenary in June, is not a member of the 34-nation MTCR.