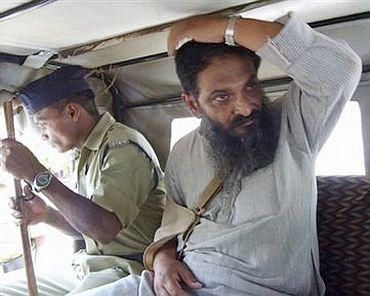 Glaring holes in the evidence have been ignored and on flimsy pretexts, Dr Binayak Sen and two others have been convicted of sedition, notes Jyoti Punwani.
The television debates on Binayak Sen are alarming. If channel heads start on the presumption that Sen is a Maoist sympathiser, and he couriered letters out of jail for a Naxalite, what's left to discuss?
The popular image of Maoists is that they are part of banned organisations, and believe in violent overthrow of the State. Smuggling out letters from prison, whether they are from a Maoist prisoner or a common criminal, is illegal. Not even Sen's most ardent admirers can say he should not be punished for doing something illegal.
The furore by Sen's supporters all over the world, now and when he was arrested in May 2007, is because Sen is innocent. His innocence was manifest when he returned to Chhattisgarh from West Bengal where he was visiting his mother when the Raipur press, faithfully echoing the police's allegations, started branding him an absconding Naxalite.
He could have stayed back and applied for anticipatory bail. He and others in the People's Union for Civil Liberties knew that the police were looking to implicate them ever since they started exposing the Salwa Judum, the vigilante force armed by the state government to take on the Maoists and to terrorise Adivasis into leaving their villages.
The preliminary report of a joint fact-finding team comprising five human rights organisations on the Salwa Judum came out in December 2005. The report was released in Raipur by Dr Sen as general secretary of PUCL and leader of the team. Next month, then Chhattisgarh Director Gerneral of Police O P Rathore declared to the press, 'Hum PUCL ko dekh lenge (we will take care of PUCL).'
All through 2006, Dr Sen and the state PUCL were in the news for criticising the new Chhattisgarh Special Public Security Act and exposing fake encounters. In April 2007, the Chhattisgarh PUCL held its state-level convention on the theme: 'Fake Encounters, fake surrenders and fake cases'.
On May 9, then state president Rajendra Sail announced the PUCL's decision to intervene in the petition filed by the wife of a Naxalite who alleged that her husband had been killed in a fake encounter in front of her and she had been raped.
This, in short, is the reason Dr Sen was arrested and implicated. In a state where the Maoists were gaining support from the Adivasis whom the government has forgotten, but whose lands it is eyeing, the Maoists had to be eliminated.
Busybodies who exposed the manner in which innocents were killed in this process of isolating the Maoists, the large-scale illegalities committed by the police with the help of the administration, had to be silenced. After Dr Sen's arrest, others were silenced. When was the last time a fact-finding team reached Dantewada or Bastar?
If exposing the State's illegalities in dealing with Maoists, or its forced displacement of Adivasis in the name of 'development', if questioning the very nature of this development which impoverishes those on whose lands it takes place, makes Sen a Maoist sympathiser, then most of the intellectuals on the National Advisory Committee which supposedly advises Sonia Gandhi, are Maoist sympathisers.
Why go so far? The report of the prime minister-appointed committee to evaluate land reforms: 'Unfinished task of land reforms', makes the same arguments that Dr Sen has been making.
So apparently, does the E N Rammohan Committee report on the massacre of 76 CRPF jawans by Maoists in April 2010 -- hence it hasn't been released. Rammohan is no bleeding heart liberal, but a former director general of the Border Security Force.
However, after viewing the television discussions, people are entitled to ask -- Dr Sen may have been an exemplary human rights activist, a compassionate doctor, but what was he doing meeting Naxalite Narendra Sanyal in jail so often, and carrying letters from him?
These questions arise from our belief in the judiciary. If a judge says Dr Sen is guilty, he must be so. 'Now that a court has pronounced its verdict, we must respect it,' has been said ad nauseum since the December 24 verdict. Why should we respect and accept a judgment that relies only on the police and ignores their most obvious irregularities during investigation of the case?
The law only prevents us from imputing motives to judges, not analysing their judgments. All kinds of criticism was heaped on the Ayodhya judgment just two months back; the Delhi high court judgment decriminalising homosexuality was attacked too -- why this sudden reverence for the judgment convicting Dr Sen?
Additional Sessions Judge B P Verma sent Dr Sen, Sanyal and Guha to jail for life on evidence that would have been thrown out by any court. The flaws in the evidence are so glaring, even a layperson would see through them. The conspiracy for which the three have been convicted means there had to be a link between them. The link was demolished by the evidence of prosecution witnesses, two of them jail officials, who should normally be on the side of the police.
What's the prosecution case? That Dr Sen, who used to meet Sanyal regularly, smuggled out letters from Sanyal and gave them to Piyush Guha.
Why was Dr Sen meeting Sanyal regularly -- 33 times in one year? Why should we ask this question? Is interacting with prisoners a crime?
Didn't L K Advani and Arun Jaitley meet Amit Shah, the powerful ex-minister accused of being the mastermind in the Sohrabuddin fake encounter case, in jail?
Didn't Advani convey his anxiety to the prime minister when Sadhvi Pragya Singh, accused terrorism, complained of torture in jail?
Sanyal and his relatives in Bengal had approached Dr Sen to help him get treatment for fibromatosis on his hands. And Dr Sen didn't just walk in to meet Sanyal. Every time he met him, he got permission as PUCL general secretary, on the PUCL letterhead. These applications for permission are part of the court record.
Significantly, the Chhattisgarh police were kept informed about these meetings, and then Raipur Deputy Inspector General of police B S Maravi testified that he had signed a no-objection letter for Dr Sen meeting Sanyal.
Incidentally, Sanyal wasn't even in jail as a Naxalite. The charge against him was of murder. Only after Dr Sen's lawyers pointed out this fact in Dr Sen's bail application, did the police charge him with being a Maoist!
The judge quotes jail officials testifying that Dr Sen passed himself off as Sanyal's relative. But during cross-examination, the officials admitted he never told them he was Sanyal's relative. Yet, the judge chose to ignore their admission.
What's more important is that the testimony of five jailers who made it clear that Sanyal and Dr Sen never met alone, that it was impossible for Sanyal to hand over anything to Dr Sen, because their meetings were held under specially strict supervision, within earshot of jail staff. The two spoke in Hindi, and discussed matters relating to Sanyal's health, domestic matters and the case against him.
Like all visitors to Sanyal, Dr Sen too was searched before and after the meetings. Asked if any of them had been pulled up for carelessness in monitoring Sanyal, the jailers replied they had not. Two jailers were declared hostile by the prosecution.
All this has been completely ignored by the judge.
Now on whose evidence are we to believe that Sanyal passed on letters to Dr Sen?
Incidentally, Sanyal isn't the only prisoner who approached Dr Sen. Madanlal Barkade, described by the police as a Naxalite, wrote to 'Dear Comrade Binayak Sen' about ill-treatment of prisoners in jail. The judge has made much of Dr Sen being addressed as Comrade. Everyone active in the civil rights movement in India must have at some time got a communication addressing them as Comrade, all Marxist parties, including those in power in many states, and whose support the Congress has taken to rule at the Centre, use this term routinely.
Obviously, Dr Sen himself didn't give a thought to the implications of this term. He gave this letter to a Raipur eveninger called Chhattisgarh, which thought fit to publish it in February 2007.
It wasn't only prisoners who approached Dr Sen. The jail authorities did so too. The Bilaspur jail authorities forwarded to Dr Sen as general secretary, PUCL, a copy of a complaint letter written by a prisoner to the Supreme Court.
The second link in this conspiracy is Piyush Guha, to whom Dr Sen is supposed to have passed on Sanyal's letters. But the prosecution's two witnesses -- a hotel owner and manager -- told the court they did not recall Dr Sen ever coming to meet Guha in their hotel. They were declared hostile. This was the only 'proof' the prosecution produced of Dr Sen meeting Guha. The judge ignores this.
To corroborate the police claim that three letters from Sanyal (interestingly, they have no date and no signature, and there's not a word in them inciting violence), were found on Guha, is the testimony of one Anil Singh, who happened to be passing while the police were searching Guha on a busy road, and was called by the police to witness the search.
The search had by then begun. The officer present during the search admitted that the arrest panchnama does not mention any articles seized from Guha. Singh told the court he overheard Guha telling the police that the letters from Sanyal had been given to him by Dr Sen. The judge accepts this.
But the circumstances of Guha's arrest are far from clear. Guha told the magistrate before whom he was produced after his arrest that he had been arrested from Mahendra Hotel. This could have been ignored, had the investigating officer handling this case not confirmed it in writing!
Replying to Guha's bail application in the Supreme Court, the investigating officer said Guha had been arrested from Mahendra Hotel. Asked to explain this, he told the court: 'I had dictated Station Road, but the typist typed Mahendra Hotel.' Referring to another error the typist made: '2005' instead of '2007', the judge calls this explanation 'natural'.
He even accepts the controversial computer printout ostensibly sent by Maoists to Dr Sen, allegedly seized from his house, but which was signed neither by Dr Sen nor the investigating officer, because, the IO said, 'either we forgot, or it was stuck to some other document.'
Unlike the other articles seized from Dr Sen's house, no copy of this was given to Dr Sen, nor was it mentioned in the seizure memo. Even state Director General of Police Vishwaranjan said on television that they were not relying on this unsigned letter.
After such willing suspension of disbelief, what's there to say? Two policemen told the court Dr Sen, his wife and Rajendra Sail had attended Naxalite meetings in the jungle; this features in the judgment, but not their admission in cross-examination that they had only heard this, they had no direct knowledge of it, nor had they bothered to report this to their seniors.
One Mahendra Choubey said Dr Sen requested him to take Sanyal as a tenant, and then Sanyal was arrested from his house. He admitted in cross-examination that his neighbour had told him about Sanyal's arrest, he had not witnessed it. But police records state, and a Criminal Investigation Department officer from Andhra Pradesh testified, that Sanyal was arrested from Bhadrachalam.
Yet, the judge accepted the first part of Choubey's testimony! As for Sen employing and befriending 'hardcore Naxalites' Shankar Singh and Amita Srivastav -- no proof was produced in court that they are indeed Naxalites.
Can a judgment such as this be accepted? It is not just Dr Sen against whom the Chhattisgarh police have no case; it's also Sanyal and Guha. But for the conspiracy to stand, all three had to be convicted.
Convicting someone as well-known as Dr Sen of sedition and the insinuations against PUCL, of which Dr Sen is the national vice-president, are hardly going to deter human rights activists outside Chhattisgarh.
But within the state, the implication of Sen's conviction are far-reaching. The state obviously wants the field to be left open to the police and the Maoists, no questions asked about the methods deployed. What happens then to the Adivasis?
Former Communist Party of India MLA Manish Kunjam, literally the last man working in Bastar among the Adivasis in an open, legal manner, despite continuous police harassment (10 of his comrades are in jail, implicated in murder cases), has the answer: "If violence is used as the only solution by both sides, then a large section of the Adivasi population will be finished."
Image: Dr Binayak Sen in police custody.
Also read:
Punish Maoists for the violence, not Binayak Sen
Binayak Sen's conviction should alarm us all
The saga of State impunity
After verdict, Dr Sen's wife fears for his life