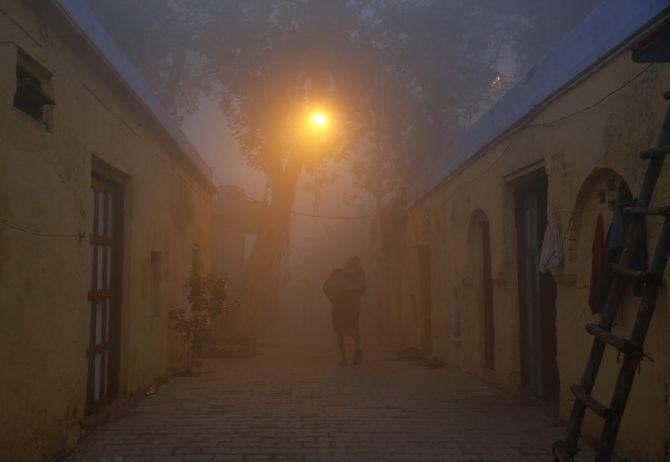 Cold wave continued unabated in the northern region today with fog enveloping most areas affecting transport services, even as three persons died and over 25 were injured in different fog-related accidents.
In the national capital, intense cold continued with the minimum temperature recorded at the season's average of 6 degrees Celsius, slightly more than yesterday's 4.2 degrees, which was the lowest in past five years in Delhi.
The maximum temperature registered at 16.3 degrees Celsius. Moderate fog was witnessed in several parts of Delhi in the morning and around 70 north-bound trains and several flights were affected due to low visibility.
Chilly weather and foggy conditions prevailed at most places in Punjab and Haryana, disrupting normal life.
In Haryana, Narnaul recorded 2.5 degrees Celsius and Ludhiana in Punjab registered 3.1 degrees Celsius, making it the coldest places in the two states. Amritsar recorded a low of 4.3 degrees Celsius.
Rail and air services to and fro Chandigarh, which recorded a low of 5.8 degrees Celsius, were hit. Several trains including the morning Shatabdi Express from New Delhi was running behind scheduled by 3.30 hours.
Cold conditions prevailed in parts of Rajasthan where normal life was affected as flight operations and train services were hit due to dense fog. Churu was the coldest place with a minimum temperature of 3.2 degrees Celsius.
The minimum temperature in Bikaner was recorded at 3.6 degrees while hill-station of Mount Abu's low settled at 4.4 degrees Celsius. Temperatures settled in Jaipur at 6.3 degrees C, in Jaisalmer, Sikar and Jodhpur at 7.2, 7.5, and 8.3 degrees Celsius, respectively.
As many as 27 trains are running late and nine flights were delayed due to the fog in the early morning hours.
Foggy weather conditions prevailed in most parts of Uttar Pradesh as the state continued to reel under bitting cold.
A man was killed and six others were injured when a SUV hit a car due to dense fog at Yamuna Expressway on Tuesday.
Another mother-son duo were also killed when their car rammed into a stationary truck due to dense fog last night in Sarojini Nagar area in Lucknow.
In a separate incident, 22 labourers including 15 women were injured when a tractor-trolley in which they going for daily wages to MES site in army area collided with a truck near Suratgarh sadar in Rajasthan's Sriganganagar district.
Image: A man walks out of his house in an alley on a cold and foggy morning in New Delhi. Photograph: Ahmad Masood/Reuters