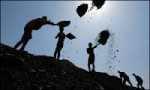 The Bharatiya Janata Party has sought filing of first information report against Prime Minister Manmohan Singh in the alleged coal block allocations, prompting the government to conduct an exercise to ascertain how he could be safeguarded from any legal wrangling.

BJP youth wing Bhartiya Janata Yuva Morcha filed complaints on September 20 in 790 police stations across the country holding Dr Singh responsible for the coal block allocation scam, sources in the party said.

The BJYM wanted FIRs to be registered against the PM over the issue, the sources said.
Seeking to take protective measures, the home ministry sought an opinion from Attorney General G E Vahanvati on the issue.
The AG, in his response given recently, is learnt to opined that the PM and ministers do not enjoy any legal immunity but the government need not be apprehensive at this stage as mere complaints cannot be a cause of worry, the sources said.
Every complaint cannot be converted into FIR, as the police have to first convince itself about the merit of the case.