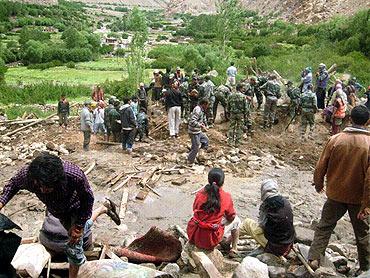 At least 103 people were killed and another 370 injured when flash floods triggered by torrential rains struck this Himalayan town in Ladakh region, northeast of Jammu and Kashmir, leaving a trail of death and destruction.
"We have recovered 103 bodies so far and at least 370 are injured. The number of missing cannot be ascertained as yet," State Police Chief Kuldeep Khoda told PTI over phone from Srinagar.
He said the toll may go up. Leh airport runway was affected but was made operational by afternoon to facilitate landing of aircraft carrying relief material and rescue teams.
Jammu and Kashmir Chief Minister Omar Abdullah flew to Leh to have an on-the-spot assessment of the situation. He visited the flood-hit areas and spoke to the affected families.
Prime Minister Manmohan Singh expressed grief over the loss of life and property in the flash floods and announced an ex-gratia relief of Rs 1 lakh each to next of kin of each of the deceased.
The state government also announced that Rs 2 lakh relief would be given to the families of each of those killed in the natural disaster.
Union Health Minister Ghulam Nabi Azad will fly to Leh on Saturday with relief supplies and a team of 140 personnel of the National Disaster Relief Force alongwith doctors and paramedical staff in an IL76 IAF aircraft.
Massive rescue operations were underway involving the state police, paramilitary forces and the army in Leh town.
Security personnel were also rushed from Kargil to assist the civil administration in rescue and relief operations. While many villages like Sabu, Phyang, Nimoo and Choglamsar were affected, the city bore the maximum brunt of the calamity.
The communication equipment of BSNL was also washed away in the flash floods and rains that hit the town and adjoining villages in middle of night at around 2 am.
Various buildings and mud-houses in old Leh town were wiped out in the incessant rains. The cloudbursts left a trail of death and destruction.
The district hospital was flooded, bus stands flattened and vehicles were seen floating in the town.
Leh is located at a height of 11,500 feet above sea level, 424 kilometres from Srinagar. Jammu and Kashmir Police has set up two camps and were providing food and shelter to nearly 2,000 people, Khoda said, adding that the camps would remain operational till alternate arrangements were being made.
50 CRPF jawans were rescued from the flooded areas, Khoda said, adding the JKAP building was also washed away in the rains.
The dead included three Army Supplies Corps jawans and three Jammu and Kashmir Armed Police constables.
Union Home Minister P Chidambaram said that over 6,000 security personnel have been deployed in Leh to carry out the rescue operations.
"6,000 army and ITBP personnel fully acclimatised to atmosphere in Leh are there and they are engaged in rescue operations," he said in New Delhi.
The district hospital and two buildings housing offices of the Union Home Ministry were also affected. All commercial flights from Delhi to Leh were cancelled.
A defence spokesman said many civilians including foreign tourists were stranded at various places and efforts were on to rescue them. He said the affected areas stretch from Pang village on Rohtang-Leh Highway upto Nimmu on Leh-Srinagar Highway, a distance stretching more than 150 kms.
Air Force has opened a disaster management cell at Chandigarh, consisting of three senior officers including medical officers.
Image: A handout photograph from the army shows soldiers and volunteers removing debris after floods in Leh on Friday  Photograph: Reuters