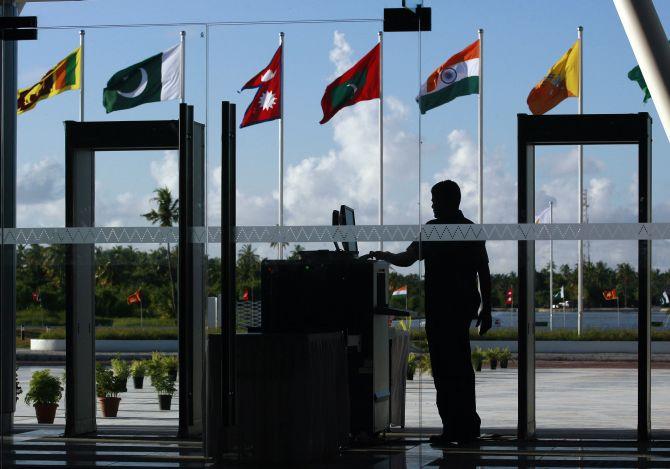 Prime Minister Narendra Modi has said that developing close relations with India's neighbours is a key priority of his government, ahead of his planned visit to Kathmandu on Tuesday afternoon to attend the 18th South Asian Association for Regional Cooperation, Summit.
"I will leave today on a visit to Nepal to attend the 18th SAARC Summit, being hosted by the Government of Nepal in Kathmandu on 26-27 November 2014. Although this is my first SAARC Summit, during the last six months, I have interacted extensively with leaders of SAARC countries beginning with their auspicious presence at my swearing in ceremony. Development of close relations with our neighbours is a key priority for my Government," he said while referring to his invitation to the South Asian leaders for his swearing-in ceremony on May 26 this year as part of his government's outreach to the neighbourhood.
Prime Minister Modi has also expressed hope that the Summit meeting will lead to concrete outcomes, in areas like connectivity among member nations.
"The 18th SAARC Summit will focus on the theme of 'Deeper Regional Integration for Peace and Prosperity'. India has always emphasised the importance of greater regional integration at all levels for the socio-economic development of the South Asian region. We have undertaken several initiatives in this regard on bilateral, sub-regional and regional basis, and will continue to do more. We hope that the Summit will lead to concrete outcomes, particularly in regard to various initiatives on enhancing connectivity that have been under discussion for a long time," Prime Minister Modi said.
In his statement Modi while noting the special relations which India attaches with Nepal added that he will be holding bilateral interactions with SAARC leaders on the sidelines of the Summit.
"This will be my second visit to Nepal within four months, which reflects the importance we attach to our unique and special relations with Nepal. There has been significant progress in the implementation of the decisions taken during my visit to Nepal in August 2014. I look forward to reviewing the progress in our relations with Prime Minister Sushil Koirala and other Nepalese leaders. We also hope to conclude some concrete agreements in the areas of connectivity and development cooperation. I also look forward to holding bilateral discussions with other South Asian Heads of State and Government on the margins of the SAARC Summit," he added.
Prime Minister Modi's delegation would consist of the External Affairs Minister Sushma Swaraj, National Security Advisor Ajit Doval and Foreign Secretary Sujatha Singh among others.
During the two-day Summit which will be held on Wednesday and day after will see all the heads of the government making their policy statements. Agreements on transport, energy and electricity sector are also expected to be signed.
Afghanistan, Bangladesh, Bhutan, India, the Maldives, Nepal, Pakistan, and Sri Lanka comprise the bloc which was founded by 7 states in 1985.
Photograph: Dinuka Liyanawatte/Reuters