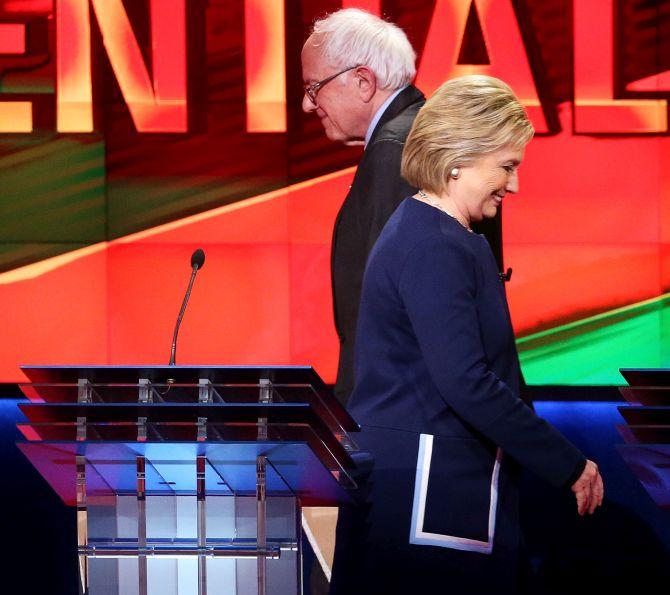 Buoyed by his win in the crucial Wisconsin primary, Democrat Bernie Sanders has escalated his attack on front-runner Hillary Clinton, saying she is not qualified to be the US president as the two presidential aspirants engaged in a verbal duel.
Clinton, 68, said she is unsure that the Vermont senator is a Democrat, a day after Sanders, 74, defeated her in Wisconsin primary.
Sanders, on the other hand, alleged that Clinton is not qualified to be the president.
"Secretary Clinton appears to be getting a little bit nervous. She has been saying lately that she thinks that I am 'not qualified' to be president," he told his supporters at a campaign rally in Philadelphia.
"Well, let me just say in response to Secretary Clinton: I do not believe that she is qualified, if she is, through her super PAC, taking tens of millions of dollars in special interest funds. I do not think that you are qualified if you get $15 million from Wall Street through your super PAC," Sanders said.
The Clinton campaign, however, said that the former top American diplomat did not say that Sanders was not qualified.
"Hillary Clinton did not say Bernie Sanders was 'not qualified'. But he has now, absurdly, said it about her. This is a new low," Clinton Campaign spokesman Brian Fallon said.
Earlier in the day, Clinton told MSNBC that Sanders had not done his homework and he had been talking for more than a year about doing things that he obviously had not really studied or understood, and that does raise a lot of questions.
"Really what that goes to is for voters to ask themselves can he deliver what he is talking about," she said.
Meanwhile, a new poll suggested that Sanders has gained a slight edge over Clinton at the national level.
Despite having lost seven of the last eight primaries and caucuses, Clinton continues to have substantial lead over Sanders in the delegate count.
According to a McClatchy-Marist poll released on Wednesday, Sanders has a two-point lead over Clinton, 49 to 47 per cent.
As per RealClearPolitics average of polls, Sanders trails Clinton by 5.9 points nationally. Despite denial from the Clinton Campaign, Sanders claimed that the former Secretary of State has said that he does not qualify to be the president.
"Hillary Clinton herself just unleashed the first part of the new "disqualify him, defeat him and then they can unify the party later" strategy we told you about," Sanders campaign manager Jeff Weaver told his supporters.
"We have won seven of the last eight contests, and voters clearly side with Bernie. So now the Clinton campaign is moving beyond a discussion of the issues to say Bernie is not even qualified to be president," Weaver said.
Clinton campaign fought back with her own email to her supporters.
"Last night, after Bernie Sanders won Wisconsin, his campaign manager went on CNN to accuse our team of destroying the Democratic Party to 'satisfy the secretary's ambition to become President of the US'. I do not think so," said Robby Mook, campaign manager, Hillary for America.
"Our team has more wins than Bernie's, more delegates, and over two million more votes. We are building the biggest and by far the most diverse coalition in this election, we are strengthening the Democratic Party in the states, and we are ready to do what it takes to win the White House and build a brighter future," he added.