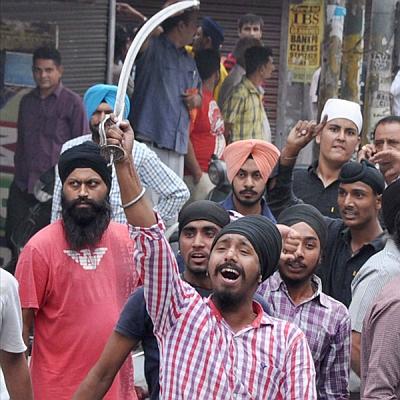 Union Minister and Akali leader Harsimrat Kaur Badal on Wednesday blamed a "foreign hand" behind the turmoil in Punjab over the recent incidents of desecration of a Sikh holy book and said the government will expose such elements.
The Union minister, while appealing for calm and peace, said that no external force will be allowed to disrupt and harm the social fabric of Punjab and added that the arrests made in the case have indicated foreign involvement.
"I have appealed to people to maintain calm and peace. The social fabric of Punjab must not be harmed. The culprits have been caught. A clear foreign hand has been indicated.
"The government is taking all the necessary steps to ensure that the goodwill and the peace that people have for each other in Punjab... no external force will be allowed to disrupt it," Badal said.
Tension prevails in Punjab after a series of incidents of sacrilege of 'birs' (scriptures) of Guru Granth Sahib at different gurudwaras in villages and the ensuing protests over the issue by Sikh activists, including hardliners.
"We have worked very hard to achieve this (goodwill). The government is going to ensure that no one is able to destabilize the state.
"We have taken the necessary measures and we are going to expose those foreign hands which have been working to do this. They are going to be brought in front of the country," she added.
The government has deployed paramilitary forces in the state which carried out flag marches amid continuing agitation by activists of Sikh groups.
The Congress and Aam Aadmi Party have already demanded imposition of President's rule, contending that the SAD-BJP government has failed to tackle the law and order situation which is deteriorating fast and spiralling out of control.
The Congress on Wednesday sought the resignation of Chief Minister Parkash Singh Badal, owning moral responsibility for "complete breakdown of constitutional machinery" in the state.
Punjab Congress President Partap Singh Bajwa said both Badal and Sukhbir have completely failed in their task of maintaining peace in Punjab and demanded a probe by a sitting judge into the series of incidents of sacrilege, especially at Bargari village in Fardikot.