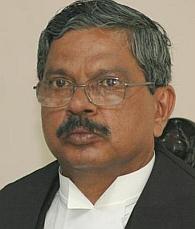 The Chief Justice of India H L Dattu on Monday defended holding the annual chief justices' conference on Good Friday, saying that it is to ensure that work at 24 high courts around the country isn't disrupted because of the conference.
Dattu was responding to senior Supreme Court advocate Lily Thomas who suggested that the chief justices' conference must be held on another day because Good Friday is important for Christians. "This is not a religious day but a spiritual day of redemption. Christians all over India are concerned about the meet being held on this day," Thomas said.
"This is not the first time that such conferences are held on a national holiday. In 2002 and 2004, it was held on Valmiki Day; in 2007 it was held on a Good Friday and in 2009 it was held on August 15. If I have to hold this conference on a working day, chief justices of 25 high courts will be forced to take two days' travel leave and a total of three working days will be lost," the CJI responded.
"Keeping in mind the past practice senior judges of this court took such a decision to hold this year's meet from April 3. Nobody has any grievance in the past when such conferences were held on a national holiday. You are raising this (objection) because I am holding this conference. Sorry if you have any grievance you file a petition, some other judges will consider," the CJI said.
One of the sitting judges of the apex court had also written to the CJI expressing concern over the date of the meet.
The CJI is to inaugurate the two-day all-India chief justices conference to discuss the problems confronting the judiciary, including computerisation, filling up of vacancies and delay in disposal of cases. On the third day on April 5, the conference will be attended by the chief ministers/ law ministers of various states.