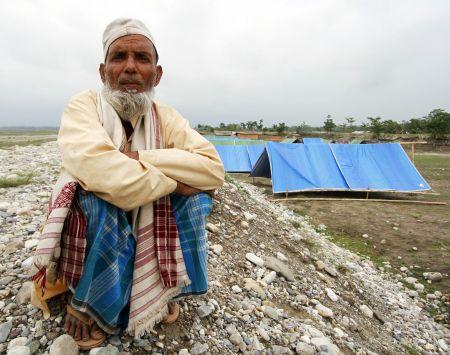 The Bharatiya Janata Party government's move to provide refugee and citizenship status to Hindu Bangladeshi migrants, who came to India to escape persecution, has evoked sharp reactions in Assam where illegal migration is a burning problem.
The All Assam Students' Union has opposed the decision to provide refugee status to Hindu migrants from Bangladesh and stated that all illegal migrants irrespective of religion must be deported from the state as per the Assam Accord. A clause in the pact prescribes deportation of illegal Bangladeshi migrants, who had come to state after March 25, 1971. The AASU has stated that it was not going to accept segregation of illegal migrants on religious line.
The newly-formed regional political party, Gana Mukti Sangram Asom, has taken a similar stand. The party asserted that it would not allow the BJP to indulge in politics over religion. It said that according refugee status to illegal Hindu migrants from Bangladesh would dilute the clause of the Assam Accord regarding deportation of illegal migrants from the state.
However, the BJP government's move has found a supporter of sorts in Assam Chief Minister Tarun Gogoi, who has maintained that the Congress was for granting refugee status to any Bangladeshi migrant who had moved to the state to escape persecution. Gogoi, however, stopped short of specifying the religion of such migrants.
Assam BJP president Siddhartha Bhattacharya said, "The country was divided on the basis of religion and at that time the Indian government had decided to provide protection to Hindus facing persecution in the then East Pakistan. As per the Immigrants and Expulsion Act 1950, refugee status should be provided to those Hindus who had to flee East Pakistan because of harassment."

Regarding the clause of the Assam Accord that prescribes for deportation of illegal migrants from Bangladesh who had come after March 25, 1971, the state BJP president said that even those Hindus who had to leave Bangladesh because of persecution should be given citizenship.

He pointed out that the BJP government in the Centre would ensure that Assam alone doesn't have to bear the burden of these Hindu Bangladeshis who will be distributed among all states in the country.

Image: Hindu refugees from Bangladesh will be given Indian citizenship if BJP comes to power in Assam in next year's assembly poll, party president Amit Shah has promised. Photograph: Utpal Baruah/Reuters