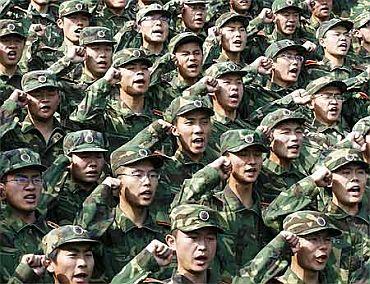 India has conveyed its concerns to Beijing over the presence of Chinese troops and their activities in Pakistan-occupied Kashmir.
Indian Ambassador to China S Jaishankar met China's Vice Minister for Foreign Affairs in Beijing on Friday to convey these concerns.

Jaishankar returned to Beijing on Thursday from Delhi where he had briefed the Cabinet Committee on Security on the developments regarding China.
The CCS chaired by Prime Minister Manmohan Singh had discussed the matter on Tuesday.
Following the US news reports of PLA presence in PoK, India had said it would independently verify the matter, which it dubbed as "serious, if true".
"If true, it would be a matter of serious concern and we would do all that is necessary to ensure safety and security of the nation," External Affairs Ministry spokesman Vishnu Prakash had said on Monday when asked to comment on reports in The New York Times about the influx of an estimated 7,000 to 11,000 PLA soldiers in Gilgit-Baltistan region.
China has rejected reports of the presence of over 11,000 of its troops in the Gilgit area of Pakistan-occupied Kashmir, saying that such "groundless" reports were being put out with "ulterior motives" to hurt Beijing's ties with New Delhi and Islamabad.
"We believe the attempts of some people to fabricate stories to provoke China-Pakistan or China-India relations are doomed to fail," Foreign Ministry spokesperson Jiang Yu had said in a brief statement a couple of days back, which was circulated by the state run Xinhua news agency.
The comment came in response to a report in the New York Times on August 28 that China had deployed more than 10,000 troops in the Gilgit-Baltistan region of Pakistan.

The NYT report attributed the military presence to China's plans to gain a "grip on the strategic area to ensure unfettered road and rail access to the Gulf through Pakistan."
China, which has been issuing stapled visas to those travelling to China from the Jammu and Kashmir region on the ground that it was disputed, had recently declined to visa to Indian Army's Northern Command chief, Lt Gen B S Jaswal to join a military delegation for a high-level visit.
The denial visa to the General prompted India to put off all military exchanges with China in protest until the issue gets resolved.