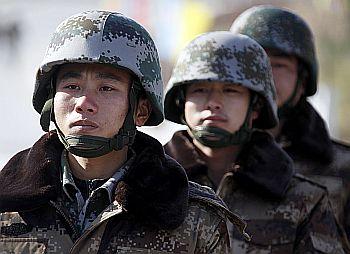 United States lawmakers on Wednesday expressed serious concern over Chinese military buildup, which was agreed to by top officials of the Obama administration at a Congressional hearing.
"I remain concerned by trends and ambiguities regarding China's military modernisation, including its missile buildup across from Taiwan and steady increase of its power projection capabilities," chairman of the House Armed Services Committee, Ike Skelton, said.
Skelton said the US must work together with China for settlement of conflicts and reductions of tensions that contribute to global and regional instability, including denuclearisation of the Korean Peninsula, the Iranian nuclear issue, and the situation in South Asia.
He said China's military budget continues a trend of double-digit increases at a time when the country provides more and more loans that support the American economy.
"China's transparency on defence issues is still limited and questions remain regarding its strategic intentions. This was highlighted just days ago following China's concerning missile intercept event," he said.
Congressman Buck McKeon said while China has been cooperating with the US in a number of fields, one cannot ignore the reality that the country still falls short in the column of reassurance. Actions speak louder than words, he said.
"On Monday, China demonstrated its resolve to expand its strategic capabilities with a missile defence test. As of yesterday, we heard from the Pentagon that this test was conducted without advance notification to the US. What are China's intentions for employing a missile intercept system? Once again, we're left in the dark to question China's commitment to transparency and cooperation. More concerning, this test comes at a time of tension over our arms sales to Taiwan. Is this test intended as an aggressive signal?" McKeon said.
In March last year, McKeon said a Chinese naval vessel behaved in an aggressive manner towards the USNS Impeccable. Despite China's assertions of its rights within its Maritime Exclusive Economic Zone, this incident illustrates its willingness to violate international law and reflects increasing risks of China's expanding military operations in areas where US forces routinely operate, he said.
"Independently, these examples are a cause of concern, but more so when seen under an umbrella of marked uncertainty surrounding China's future course in terms of its military and security ambitions," McKeon said.
Responding to lawmakers concerns, commander of the US Pacific Command, Admiral Willard, said it is critical that the US maintains readiness of its forces, continually reinforces its commitment to its allies in the region, and meets each challenge by China in a professional manner that is consistent with international law.
"It is clearly in both nations' interest and the Asia-Pacific region's interest to manage these complexities and to develop a relationship with China that is constructive in every way," he said.
Assistant Secretary of Defence Wallace Gregson said, "We have concerns about the pace, scope and lack of transparency in China's military modernisation.
"The People's Liberation Army is changing from a mass army designed for protracted wars of attrition on its own territory to one developed for winning short-duration, high-intensity conflicts on its periphery against high-tech adversaries," he said.
"Weapons and material to support this are being procured from both foreign sources and an increasingly capable industrial and technical base. Organisational and doctrinal changes are also evident as are disruptive technologies designed for anti-access and aerial denial, nuclear space and cyberspace arenas. Modernisation and expansion of military capabilities across the Taiwan Strait continues with the addition of more missiles, enhanced air, surface, and undersea capabilities," he said.
"Over the past several years, China developed and articulated roles and missions for the PLA that go beyond immediate territorial interests. We will continue to use military engagement with China to demonstrate US commitment to the Asia Pacific region and act as a partner in addressing common security challenges," Gregson said.
Image: PLA soldiers patrol a new training centre for the army's peacekeeping troops located on the outskirts of Beijing
Photograph: David Gray / Reuters