A photo published by Chinese military showing its strategic bomber reportedly flying over Taiwan, days after Beijing's spat with US President-elect Donald Trump over his questioning of 'One China' policy, has sparked concerns in the island, official Chinese media reported.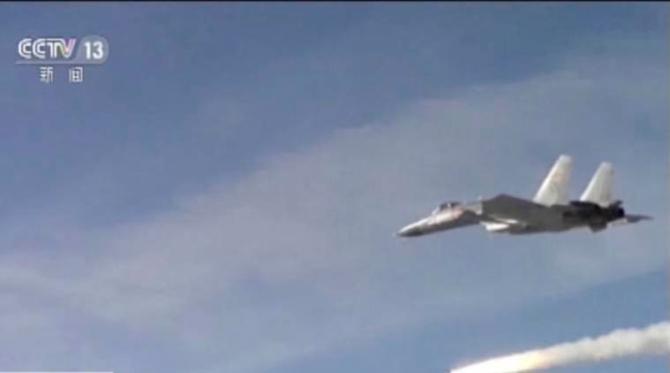 The photo published by the People's Liberation Army Air Force showing a long-range strategic bomber flying within visible range of Yushan, Taiwan's highest mountain, has caused great concern in Taiwan amid debate about whether the mainland will reunify the island by force, state-run Global Times reported.
It said the PLA Air Force published the photo on its Sina Weibo account, showing an Xian H-6K bomber flying above the clouds with two mountain peaks rising in the distance.
"Military commentators on the mainland believe the peaks are of a mountain in Taiwan, which has made many netizens marvel at the PLA's military capability," the report said.
However, the spokesman of Taiwan's "Defence Ministry," Chen Zhongji, told the Central News Agency that military aircraft from the mainland could only fly outside the air defence identification zone of Taiwan and the ministry could monitor their movements, saying the guesses were "groundless".
The daily quoted a Military expert Chen Weihao as telling Taiwan-based satellite television channel and cable TV network TVBS that it was the first time that mainland aircraft had been photographed with Taiwan landscapes, which has a psychological impact on the island.
"Discussions about the possibility of the mainland reunifying Taiwan by force continues to gain momentum as pro-independence Taiwan President Tsai Ing-wen keeps whipping up anti-mainland sentiment," it said.
The report in the official Chinese media followed war of words between China and Trump after he spoke to Taiwanese President Tsai Ing-wen which is unprecedented as US follows One China Policy under which China claims the breakaway province of Taiwan as part of its mainland.
"Did China ask us if it was OK to devalue their currency (making it hard for our companies to compete), heavily tax our products going into their country (the US doesn't tax them) or to build a massive military complex in the middle of the South China Sea? I don't think so!," angry Trump said after China lodged protests over his talks with Taiwanese President Tsai Ing-wen.
Later, Trump said in an interview that "I don't want China dictating to me. I don't know why we have to be bound by a one-China policy unless we make a deal with China having to do with other things, including trade".
This prompted China to react saying that One China policy formed the bed rock of its foreign policy and US-China ties will be "out of question" if Trump compromised with One China policy.
Since then, Chinese military analysts have been saying that any plans by Trump to alter One China policy may heighten tensions in Taiwan Straits.
"The Taiwan regional government has lost its independence and become an agent of US and Japanese anti-China forces," Wang Zaixi, former vice president of the mainland's Association for Relations Across the Taiwan Straits, said at an annual meeting of the Global Times on Saturday, adding that the mainland is the only force at present that could curb "Taiwan-independence" forces.
"Military conflicts would occur between the Chinese mainland and Taiwan by 2020. It is quite possible that the mainland will take the island in one stroke," former deputy commander of the Nanjing military region Wang Hongguang said, adding that US President-elect Trump has pushed cross-Straits ties to a critical point, given his recent words on the Taiwan question.
However, Chen Yixin, a political expert from Taiwan-based Chinese Culture University, told the paper that Chinese leadership might not favour reunification by force, which would hurt both sides' interests.
"The mainland is upset about some of Tsai's policies such as Taiwan's culture independence, but they haven't had a great impact yet," Chen said.
"Even though Tsai wants to pave the way for jurisprudential independence, she does not have the nerve to do it, and the US will not necessarily admit the independence," Chen said, adding the mainland should show some restraint.