Surviving on biscuits for the last two days and sleeping on the floor of the Tambaram Station on the outskirts of rain-hit Chennai, construction worker Saleem is waiting for a train to take him to his hometown in West Bengal.
Tambaram, a suburban area of the capital city has borne the brunt of the torrential rains, with areas beyond 2-3 km outside of its station left inundated, cutting it off from rest of Chennai.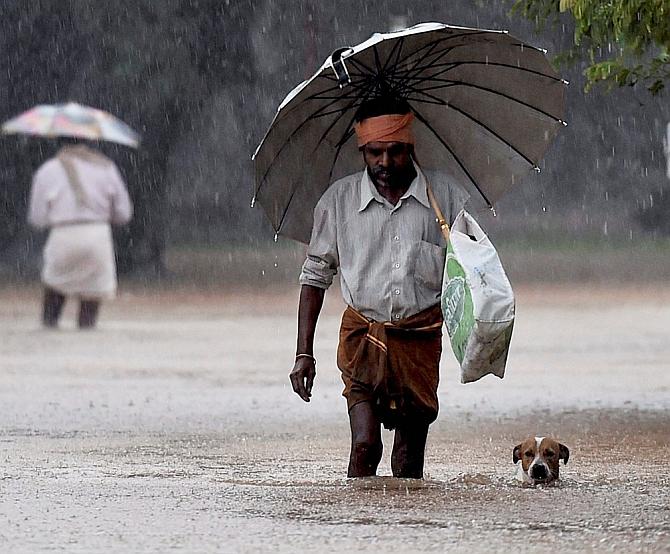 People rendered homeless have been forced to seek shelter in far-away hotels or homes of relatives, while the poor and needy are battling against the elements at railway stations or crowded rescue camps.
"I work as a construction worker in Perumbakkam, but all the sites are flooded, so work has been suspended. We came to the station two days ago, but all trains have been cancelled.I have to go to Murshidabad, but I am stuck here now. There is nothing to eat, no money left. We are surviving on biscuits and prayers," Saleem said,
But, Saleem is not the only one ruing his misfortune. Mason Manoj Mahto from Bihar and carpenter Raj Kumar from Fatehpur in Uttar Pradesh, who both work in Tambaram area, are in a difficult condition in the aftermath of the tragedy.
"We ran out of work first...in some areas buildings are inundated. We then ran out of money, the ATMs have run out of cash, as there is no replenishment. Whatever bread and biscuit we had stocked up, we are surviving on that only," Mahto said.
At the old Tambaram Railway Station, local trains have been parked on the tracks and are awaiting green signal for the last several days.
Besides poor migrants, students of colleges and other institutions have been been left stranded at stations and airports.
The state administration has announced a one month holiday but the break from work is causing them more stress.
Bhopal residents Pranjali and Sheetal, both aged 18, of SRM University were left stranded at the Tambaram Station on Wednesday night for several hours till help arrived from one of their families late night.
"Our train was from Chennai Central but we couldn't go there as we couldn't cross the bridge, so we had to come here to seek shelter. My phone network is not working, I and my friend will be forced to stay the night here, what option do we have," Pranjali, a BBA student, said.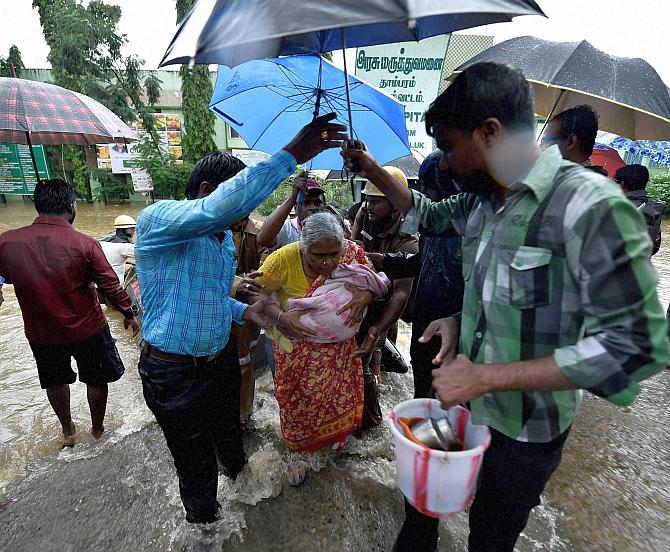 Sheetal, a first Year student of Biotech at the university, said, "Some good Samaritan helped us call Pranjali's father, after which we heaved a sigh of relief".
Situation at the Chennai Central and Egmore stations are also similar, with people taking shelter there.
The scene at the Chennai Airport is equally dismal, where flight operations have been temporarily suspended, leaving several passengers stranded amid chaos and uncertainty.
IT professional Raj, who works at Accenture, says, he is not going to work as there is no electricity at the IT park where his office is.
"I live in Medumbakkam and situation is very bad in our area. These poor people have been living at the stations for several days.We are waiting for the water to recede," he said.
"We came here after fleeing our homes in Perumbakkam. 8-10 ft of water in our areas, we came to the station travelling in rescue boats. I am from UP, but, no trains, so we are stuck here," said another IT professional.
Deva, a taxi driver in Tambaram says that beyond 2-3 km outside the station, "we cannot ply any further. Our business has been hit badly but people are going through a harrowing time."
The torrential rain has come close to breaking an almost 100-year-old record for the city, prompting deployment of defence forces for relief and rescue operations.
Overflowing lakes and breaches in bunds have caused considerable damage forcing people to flee the areas. Lakes in Mudichur, Vardarajapuram, West Tambaram, Manivakkam have flooded the areas throwing life completely out of gear.
60-year-old Kannan, a resident of Tambaram on Grand Southern Trunk (GST) Road area has moved to his relative's place in a different area after his house was left partly inundated in the deluge.
"I live near the Global Hospital, its basement and all are completely flooded, my house and the areas are all inundated. So, our entire family has moved to a different place. Some, of the people there are looking to stay in hotels but even they are all packed. We are going through a very tough time," he said.
The continuous rains have damaged the streets in several parts if the city, adding to the woes of commuters wading through knee-deep water at several places.
Some of the rain-affected people said that auto and taxi drivers were charging exorbitant fares, but overall a sense of cooperation and camaraderie is quite palpable in the city, trying to cope with the deluge.
Photographs: PTI Photo