Defence forces have called off aerial sorties for rescue operations in flood-hit Chennai which is limping back to normalcy as water levels have started going down.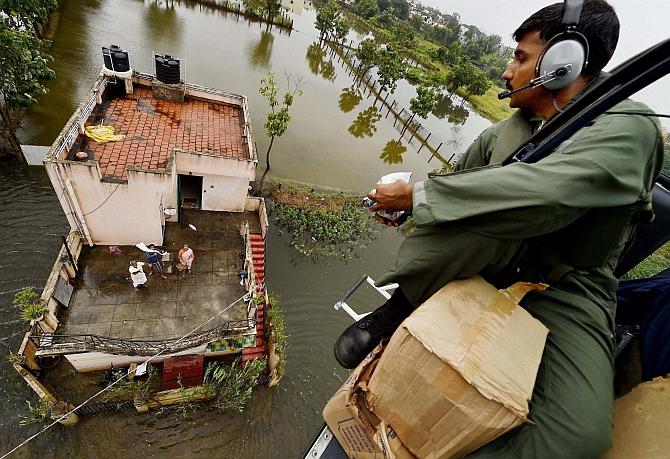 "The water level in the city has gone down considerably after initial days of flooding. Since Saturday evening all aerial rescue and relief operations have been called off. There are no further communications from either Tamil Nadu government or Centre to carry them out as the city is slowly returning to normalcy," a top IAF official told PTI on Sunday.
In the past few days, through a coordinated team of defence forces and NDRF, the IAF airlifted nearly 1,500 people to safety.
Nearly 400 persons including students were flown to Delhi and Hyderabad in a C-17 and a civilian airliner from the Arakkonam Naval base, 70 km west of Chennai.
The Tambaram Air base, nearly 30 km south of the city, and the Arakkonnam base were two critical defence assets in carrying out the rescue and relief operations.
IAF units from different places had joined the rescue operations at Tambaram, which served as the nodal point for executing the operations, besides the INS Rajali base at Arakkonam.
"Now, all the IAF units are returning to their parent bases, as the sorties have been called off," the top IAF official said.
At Arakkonam, only a civilian flight flew about 50 people to Hyderabad this morning, a senior naval official said.
The C-17 was flying out from the Naval base while the Air base ferried rescued people to Arakkonam in smaller aircraft like Mi-14 and AN-32.
"We had our last sortie from Tambaram to Arakkonam at about 3.30 pm yesterday. After that another 90 people were left who were sent to Bangalore in three Volvo buses. Now, no one is left to be rescued at Tambaram," Flight Lieutenant Mohana Chandrika, who coordinated the operations from Tambaram base, said.
"We have also heard that local trains and buses have begun resuming operations, and with streets becoming a bit more navigable with receding water level, life is coming back to normal. There was just little rain in the day, so weather-wise also conditions are becoming better," she said.
Chennai and its suburbs have been hit by torrential rains over the last few days, disrupting transport and essential services. The vigorous northeast monsoon has left at least 245 people dead since it set in over the state on October 1.
The torrential rains had wreaked havoc submerging large swathes of the city, inundating many bridges, and cutting off transport and communication links, including the civilian airport which was shut till December 6.
"The runways were flooded and the vehicles parked on the tarmac submerged up until lately... The planes with so much water around them looked like floating toys from up here," said an IAF pilot, who conducted several rescue and relief sorties from the Tambaram Air base.
With water level coming down, the airport became operational for day-time flights from today, with Air India running a service between Chennai and Port Blair.
Photograph: PTI Photo