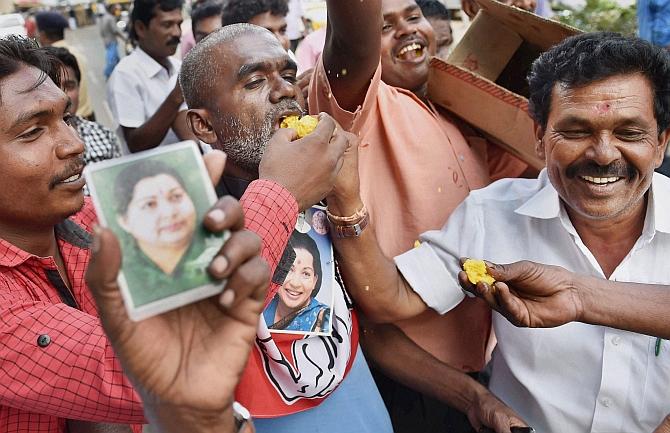 Jayalalithaa's supporters celebrate after she was granted bail by the Supreme Court near the Central jail in Bengaluru. Photograph: Shailendra Bhojak/PTI

Special prayers were held by All India Anna Dravida Munnetra Kazhagam faithful on Friday seeking release of Jayalalithaa who was sentenced to four years in jail and slapped with a fine of Rs 100 crore by a Bangalore special court in the Rs 66.65 crore disproportionate assets case on September 27.

By afternoon, their prayers were answered. The Supreme Court granted bail to the former Tamil Nadu chief minister.
Jayalalithaa's supporters broke out into celebrations, bursting crackers and dancing on the roads in Chennai, paving way for her homecoming for the Diwali festival.

Whether she will be able to walk out of jail on Friday depends on how quickly paperwork is processed in Bangalore, where she was convicted on September 27.
What started as a sombre day at the party headquarters with grim-faced AIADMK leaders ushering in its 43rd founding day with some workers turning up in black outfits, soon transformed into a celebratory mood with slogans hailing Amma, as the former Tamin Nadu chief minister is fondly called, and bursting of crackers reverberating the air.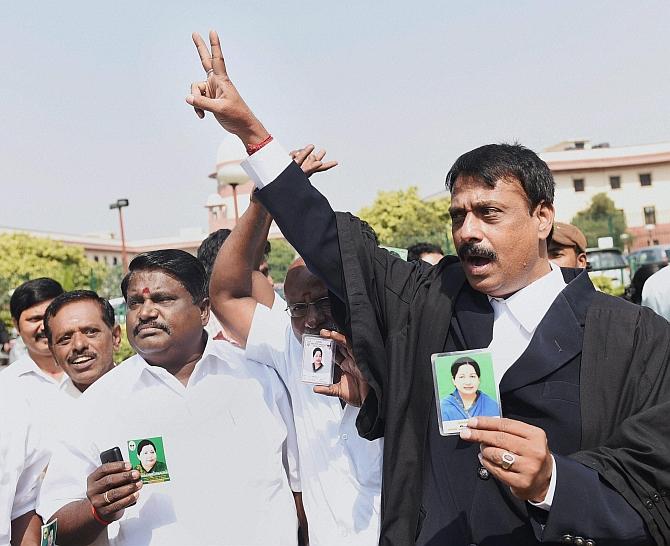 Elated AIADMK supporters gather outside the Supreme Court. Photograph: Subhav Shukla/PTI
Avid party workers, whose joy was short-lived on October 7 following conflicting reports about her bail in the Karnataka high court, were in for some happy news on Friday with men and women dancing in joy over the apex court enlarging their leader on bail.
Earlier, AIADMK workers welcomed the party's founding day in a subdued mood, with Presidium Chairman E Madhusudhanan doing the customary hoisting of the party flag and garlanding the statue of founder MG Ramachandran. He later released a souvenir to mark the occasion.
Party Treasurer and Chief Minister O Panneerselvam and some of his cabinet colleagues were seen sporting a beard, apparently summing up the mood in the party prior to Jayalalithaa securing bail.

In many places across the state, AIADMK workers ushered in the day by garlanding statues of Ramachandran, a charismatic actor who split from the M Karunanidhi-led Dravida Munnetra Kazhagam to form AIADMK, and also hailed Jayalalithaa and had wished for her release.