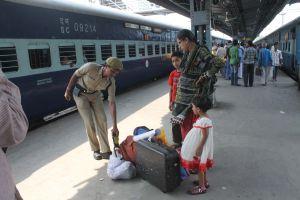 Was some area in poll-bound Andhra Pradesh the real target of the two bombs that exploded in Chennai Central railway station early today?
"Except Seemandhra, Lok Sabha elections in the entire South India is over. The bombs exploded in two compartments of a train that travels through the area where elections are yet to be held. We are not sure, but there is a possibility...," a Home Ministry official told PTI.
The Bangalore-Guwahati train, in which the two low-intensity bombs exploded, traverses coastal Andhra Pradesh where Lok Sabha elections will be held on May 7.
The train is said to have been late by at least two hours when it arrived in Chennai Thursday morning. If the blasts were triggered by a timer device, then actually the explosion could have taken place somewhere in the coastal region of southern Andhra Pradesh.
The scheduled stops of the express train in Andhra Pradesh are Ongole, Vijayawada, Rajahmundry, Vishakapatnam, Vizianagaram, Srikakulam, Palasa -- all located in Seemandhra region where polling is slated next Wednesday.
After Chennai, the next stop of the train was Ongole in Andhra Pradesh.
A woman was killed and 14 others injured, two of them critically, when two low-intensity bombs exploded in a span of five minutes on two coaches of the Bangalore-Guwahati train at the busy Chennai Central Railway station.
This was perhaps for the first time in years that bombs were exploded in Chennai.
The last major explosion took place in Tamil Nadu was in 1998 when 12 bombs burst in different places in Coimbatore killing nearly 60 people and injuring over 200 others.
The Tamil Nadu government ordered a probe by its special CB-CID wing as police detained a suspect in connection with the blasts.
Image: A Hyderabad Railway Police scans a passenger's bags at the Nampally railway station
Photograph: SnapsIndia