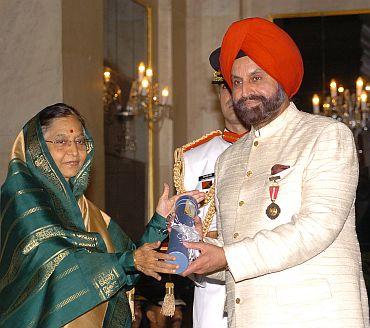 New York-based businessman Sant Singh Chatwal received his Padma award from President Pratibha Patil at a colourful ceremony in Rashtrapati Bhavan.
Recalling the great moment in his life, as he put it, Chatwal said the ever smiling Patil offered her "heartiest congratulations for the well deserved award." Speechless and overcome by emotion, all Chatwal could reply was "Thank you, your Excellency."

For Chatwal, it was a great moment of triumph, "All sorts of stories appeared in the media saying that I should not be given this award. False propaganda had became a tool in the hands of those who wanted to deny me this honour. It was a great feeling to stand before the President in the presence of such an august gathering led by Prime Minister Manmohan Singh."

Image: President Pratibha Patil presenting the Padma Bhushan to Chatwal.