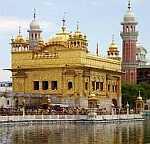 The Centre on Wednesday said it would not like to interfere in the construction of a memorial in the Golden Temple for those killed during the Operation Blue Star by the Shiromani Gurdwara Parbandhak Committee, respecting the rights of such organisations bestowed by the Constitution.
Home Minister Sushilkumar Shinde said the central government was fully aware about the construction of the memorial in the Golden Temple in Amritsar by the committee that runs key Sikh shrines.
"There are certain things which certain organisations do. They enjoy certain rights and we do not want to impinge on them (Unke jo adhikar hotey hain, unke adhikar par hum sawaar nahi hona chahte hain)," he said at a press conference in New Delhi.
He was replying to a question on the central government's stand on the memorial.
Shinde said that due to terrorism, India has suffered a lot -- both financially as well as by losing people and therefore "one has to introspect".
"Whatever rights they (organisations like SGPC) have, they can do it. But they should understand that the country has suffered for many years. That is why, I have said people should introspect," he said.
Asked whether the Centre has no objection to the construction of the Operation Blue Star memorial, the home minister said, "It is not a question of objection or no objection. It is a matter of rights given to the organizations by the Constitution".
"I have never said that it was right to construct the memorial. But it should be left to them. It is their institution and we cannot interfere unless somebody takes objection in a court...," he said.

Asked about the reports, which suggested that there were attempts to revive militancy in Punjab, the home minister said the government has information about "some activities" in Punjab as well certain foreign countries.
"Not only in Punjab but in some foreign countries also there are activities by Sikh militants. But it cannot be said so (revival). Some instances are there," he said.
Commenting on the attack on Lt General (retd) K S Brar who had led the Operation Bluestar against Sikh militants in 1984 to flush out militants from the Golden temple, in London, Shinde said the army officer had gone there on a private visit.
"He is under the cover of military and our information is that police were not informed (about his London visit)," he said.
 Asked whether the security of Brar has been enhanced after the assassination attempt, Shinde said, "It is the obligatory duty of the police and the government to do a review from time to time, month by month and give protection."